IRC Championship 2008 on the Solent
June 19, 2008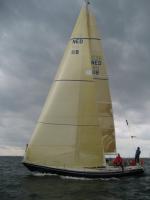 Conditions in this IRC National Championship looked very similar to the conditions of the Red Funnel Easter Regatta one year ago; a lot of sunshine and building sea breeze during the day. A big fleet turned out to compete at three up-wind down-wind courses on Friday and Saturday and two on Sunday. In the IRC Super-0 class there was a great fleet of TP52s and one big 65 foot Mills design. Winsome sailed in class IRC3 and was with a rating of 0.992 this time not the slowest rated boat of the field.
Friday gave an early start at 10h50 with only 5 to 7 knots of breeze from NW to W. The light conditions didn't suit Winsome, we ended that first race 13th out of 16. The 2nd race went much better in light conditions in which we performed very well. The wind was very difficult to predict: coming from NW with only 9 knots and at a warmer temperature, this was the gradient wind coming from shore, or coming from the West at around 12 to 14 knots at a temperature much more chilly: the sea breeze. Andy started well this second race and the rest of the team was eager to do better than the first race, and so we did: 4th!
At the time of finishing it was already 17h00 but the schedule indicated another 3rd race. And the race committee kept their word; the 3rd race was started at 17h30 and was sailed in excellent conditions.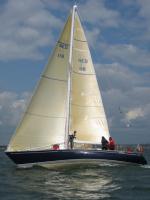 Sunshine and a building sea breeze of 14 to 17 knots, Winsome's ideal weather. We had a great start and sailed steadily to a 2nd place. Perfect result, very happy we were. Overall position, corrected for one discart 2nd. Just in time for the soccer guys in Bern to play against the French we found a café which was willing to turn on the TV for us. After the match we went to the Winsome's cottage for a great diner prepared by Ed Groenen, Harry's co-pilot, and Edith his girlfriend.
Saturday gave the exact same weather pattern; steadily building sea breeze effects during the day, again from NW to W. Also this time Winsome performed exactly similar to the day before: 13, 5, 2. This meant we started the last day Sunday at a fifth position Overall, but 3rd and even 2nd was within reach.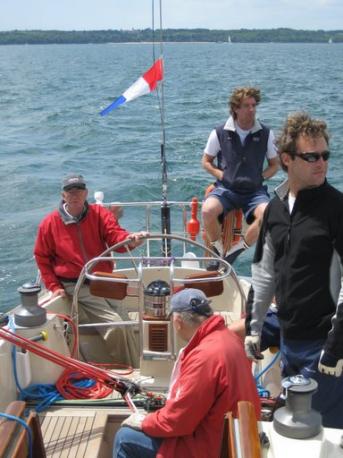 Sunday started very warm already at 10h00 with no breeze at all, the Committee kept us inside the harbor for an hour and let us go outside around 11h30 to have us wait for breeze there. The new Volvo70 footer from Russia made some test rounds in the 3 to 4 knots of wind. We played around here with Luna (the RIB) to check this extreme new design for the next Volvo Ocean Race starting in September this year. Eventually we heard on the VHF that the windward committee boat reported 10 knots of wind, while we still only had 3 knots. The cloud cover had thickened since the morning so it couldn't be sea breeze we thought. But it was! Apparently the morning had been warm enough to create enough pressure difference between shore and the Solent. The wind quickly picked up to 17 to 19 knots from West, good conditions for Winsome. A start in the middle of the line and a very short course made us finish at a 10th place. Unfortunately the committee decided to hold another 2nd race regardless of their initial decision to only sail one race that day because of the long delay in the morning. A big part of the Winsome team had to catch a flight at Southampton airport and needed to get in the RIB quickly to be brought to the main land.
Due to this last DNS Winsome sailed to a 7th place overall. Our protest to disregard the last race which was announced not be sailed is still pending in which case we could still become 6th if not 5th. Not very important though. Overall a very good training for the Cowes Week in August. But first we will sail the Cowes – Dinand – StMalo race in July.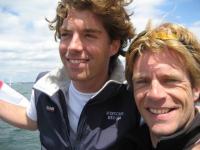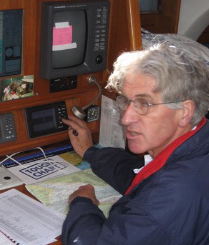 Please check this site regularly for updates. Edgar