Flight PIL004 Cabo Verde-Brasil
November 13, 2011
At 0800 at the airport, departing at 1000 after completing all formalities, waiting for the fuel truck, after taking all survival gear in the passenger compartment, after fuelling the aircraft until the very last liter we could get in the wingtanks, after draining (ourselves and the aircraft) etc.
The weather was fine. The pilots highly motivated though somewhat tense. After all it is not something usual to fly 1.500 Nm or 6,5 hours over an ocean without any other possibility to divert to another airport (Natal in this case) than to return to Praia before reaching the point of no return.
We all know such points of no return in our lifes though not necessarily in relation to an aircraft, isn't it?
The average headwind predicted and calculated by Andy was 8 knots. Not bad. It would leave us with a reserve of one hour flight time (400 lbs). Not much for a flight over an ocean, but not mad either.
During our flight we would meet a ridge of 400 Nm of embedded CB's (zeg maar gewoon verborgen onweersbuien) like Air France encountered last year. Enough to let go through your head when preparing the aircraft.
We made as you know plenty of calculations based upon data given in the POH (pilot operating handbook).
The distance of 1.500 Nm was even for Urs a unicum. Fredy Prachoinig did it last year by himself in a brandnew PC12.
In short now it all went fine. Fuel consumption remained at 320 lbs per hour, the dangerous CB's just stayed out of our way ( we had to deviate only for one), the top of the clouds stayed just below us (except for a distance of 450 Nm just north of the Equator resulting in two hours IMC) and our HF radio did his job with Dakar radio but was less succesull with Atlantico radio.
I made Iridium phonecalls, just to break some tension I guess, we drank some coffee and eat Sophie's sandwiches.
Once we decided to continue beyond the point of no return, we felt better but we remained concentrated all the time.
Our entire flight was at FL300. One time I tried to make contact with the one and only emergency airport at Fernando de Noronha, some 180 Nm off the Brasilian coast, but guess what they did not even reply to any of our calls. We had a permission to land there but no permission to take any fuel.
Once having landed in Natal we felt really happy, so an hour long check by Brasilian customs didn't matter to us at all.
The flight did take 6:25
That we had no hotel booking in Natal didn't matter to us either.
Tonight we will sleep very long, dream of angels or similar birds to be ready for a relatively short flight to BahIa de Salvador tomorrow.
Meantime Magy arrived in Rio and Alex in Buenos Aires, so it looks all getting together as planned.
Will be continued
challenging weather in the middle of the Atlantic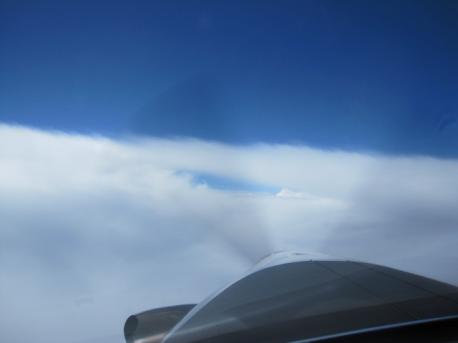 challenging weather 2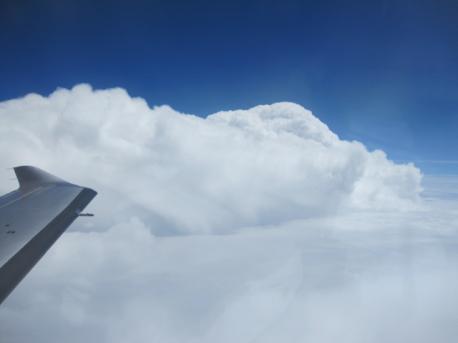 challenging weather 3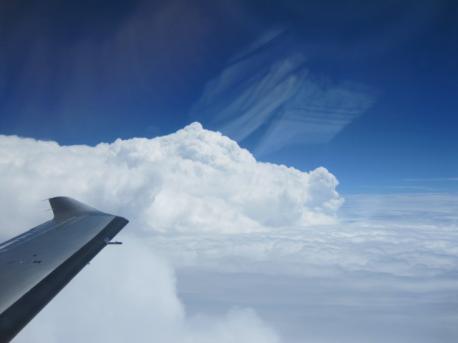 active weather between 11°N – 04°N on course to NATAL