Flights El Calafate to Mendoza and Mendoza to Santiago de Chile
November 30, 2011
flying over the vulcanic ash cloud at Bariloche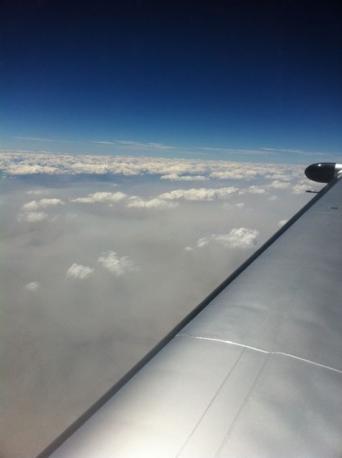 El Calafate – Mendoza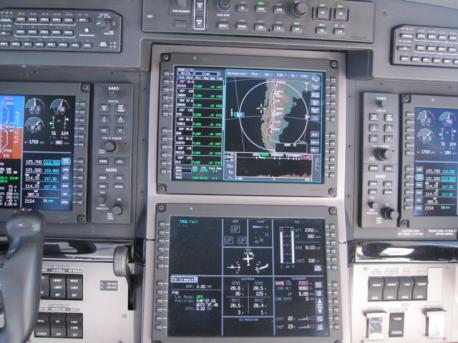 approaching Mendoza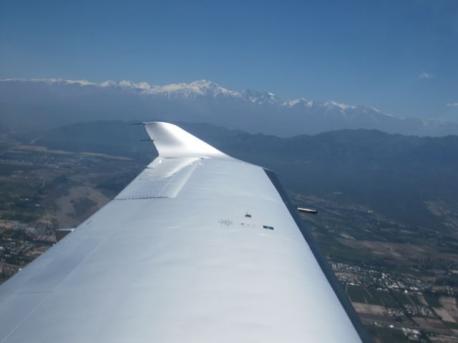 After having been without any real news by either newspapers or by TV, we do not know anymore what is happening to the world. What happens to the €, or what is DSK doing between breakfast and lunch. We just know nothing and the only news reaching us is that Federer has reached another round in a very small tournament in Mongolia, or that Mezzi made three goals in his last match, or that Holland is spending this year 4% more than it earns. Crisis? Hardly possible. If you spend 4% than you earn, you will go bankrupt very soon. Politicians must be mad, but do not get punished for their irresponsible actions.
As to drinks and food: the Malbec wine in Argentine is of much less quality than the Malbec we drink in Holland. The seafood is delicious so my stomach is feeling like an aquarium full with fishes (voel me net als een goudvissen kom).
Today I met Daniel Necker, someone from the past in my Spliethoff time. It was very nice to meet him again, talk about our onion shipments with mv Carpaper, mv Lauriergracht, mv Prinsengracht, about our time with Pieter Flohil [best regards Pieter] etc. He lost contact with Spliethoff but told me BBC is very active here with an office in Santiago de Chile. Who will contact him at andes@chartering.cl
We will leave tomorrow Santiago de Chile for Cuzco. A flight of 05:40. We will keep on starting the engine by GPU until we have found a new battery somewhere here. Zonder geluk vaart niemand wel.
Will be continued.