Turkmenistan Uzbekistan Tajikistan Kyrgyzstan Kazakhstan
June 11, 2013
Our trip could have been a "stan" trip. We did not realize  that we either stopped in one of these "stan" countries or flew over them. We have to look now if the suffix stan means something. Probably just country or county.
Actually we only landed in Dushanbe in Tajikistan which was not a bad experience at all. The Hyatt Hotel was one of the best hotels I have ever stayed in and I can tell you that I have stayed at a considerable number of hotels in my life. The country looks nice and clean and the people are very friendly. We had no time to see anything of Tajikistan, since we arrived only at 5pm and had to leave the hotel again at 8am. Life of pilots can be tough. The temperature was 35 degrees C upon arrival and perhaps 30 C when we left. At  this altitude it is very special.
Considering that 90% of the population is Muslim, we did not see any sign of repressed women, resp. looking repressed, like in Iran. It was looking like a West European country.
Upon departure we had to take care not to overheat the turbine
After our departure we overflew for many hours areas totally uninhibited, mountains with snowtops and glaciers. Not any sign of life.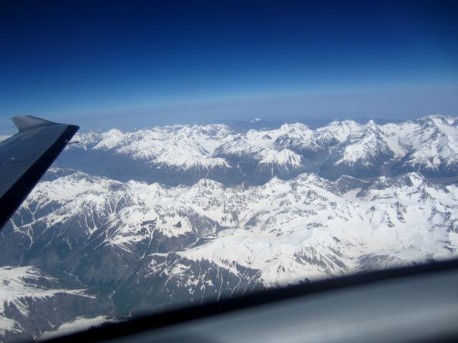 We made virtually no progress Eastwards since our heading was NNW, so we made only Miles Northwards.
On the approaches to Dushanbe and to Novosibirsk, we had to deal with the Russian system of aircontrol. I do suggest that the non-pilots reading this blog just skip the next paragraph. It would go too far to explain it and honestly I am happy that I understand it myself.
The Russian system works in meters Altitude and not in feet, like we are used to. Morever the airport gives QFE instead of QNH, i.e. height instead of altitude. Though I learned this all in theory, it becomes quite difficult when suddenly confronted with the Russian system. Urs had the Jeppesen page with the conversion of meters to feet ready in a plastified sheet and had experience from previous trips to Russia. He was today the flying-pilot. It all went very well and we mastered the two different systems very well. As non-flying pilot I looked what he did so that I can copy it tomorrow.
After the landing in Novosibirsk we took the Russian TC-1 fuel again. No choice. The handling agent Anatoli did a good job, organised our taxi and guided us how and where to purchase some Roebels. Do not forget that Tajikistan has it's own currency (Somoni). Where is our female secretary willing to join us on these trips and organize it all for us? Applications on www.winsome.nl please. Confidentiality of details guaranteed.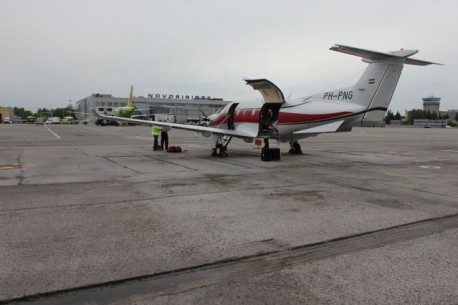 In spite of a five hours flight we had not left any time for anything else than flying. Ok agreed, we drank a coffee, we did eat a sandwich, well prepared by Urs at the hotel, and I covered (only) four pages of the Honeywell Apex Manual, but I had no time to even write this blog since I prepared six E in connection with next stops. No time to read even one word in Disco 1 to stay in line with Theun's knowledge of Latin grammar. Perhaps tomorrow on our four hours flight to Ulan-Bator.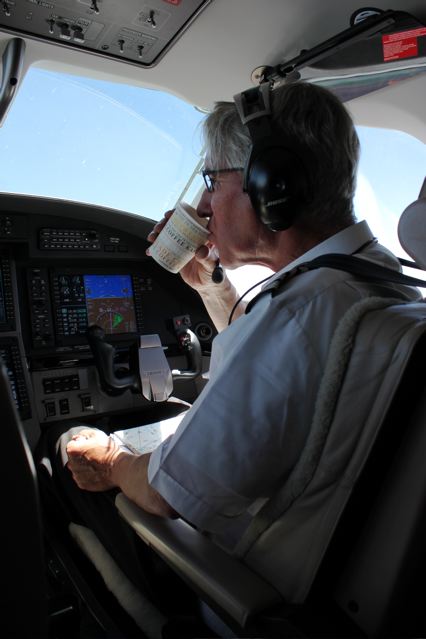 Life is looking good, even in Siberia.
Will be continued.