Rolex Middle Sea Race. Day 3, another without wind
October 23, 2014
This blog was written before we entered into the storm of yesterday, om which I write a blog this afternoon. At this moment we are sheltering on the island Panelleria awaiting better weather to resume the race resp. to reach Malta.
Blog written Tuesday 21 October:
We were warned by various sailors not to get into the wind shadow of the vulcano's. Though they must have been certainly right, we could not test it in absence of any winds.
After we left the Street of Messina, we quickly observed there would be no winds, or perhaps not much. Therefore we steered East of the group of boats ahead of us which included DUFFY. That worked only in the first hour or so, since after that also we arrived in no-wind-sea.
We moved very slow towards the Stromboli. We had to respect actually the Strombolicchio ánd the Stromboli. We rounded the Strobolicchio together with VELENOSA. Actually we passed many boats on that stretch.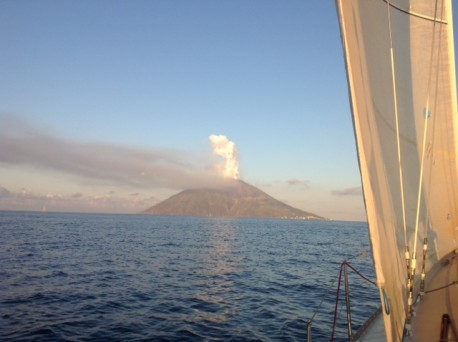 Stromboli looked at her SE side.
Have a look the the photo's. Beautifull landscape, a burning sun, no wind. At around noon the water became flat like a mirror. At that time we must have passed somewhere DUFFY.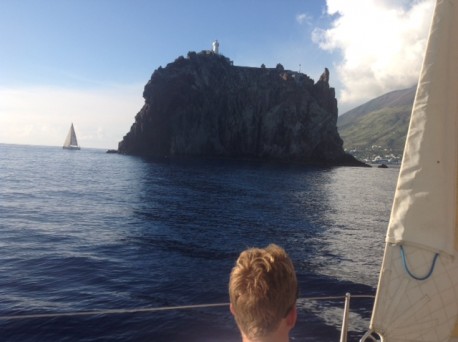 Stromboli and Floris.
Like everyone probably knows, except for myself, the Stromboli is still not asleep and is pushing out every ten minutes or so, either a small stream of hot lava or stones.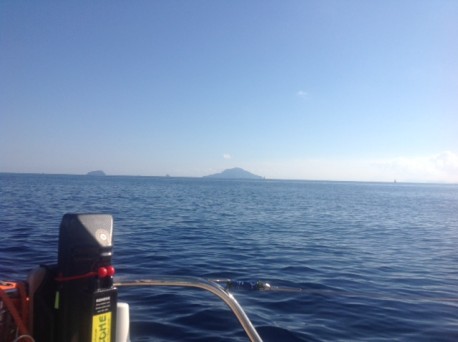 At safe distance from lava and Stones.
Late afternoon we were passed by an even older boat i.e. STORMY WEATHER. She was followed by another similar boat, both ketches/wooden hulls, TOMAHAWK but she appeared unable to pass us. I am discussing with the owner to jointly transport our boats to Lymington after this race, including BELLADONNA.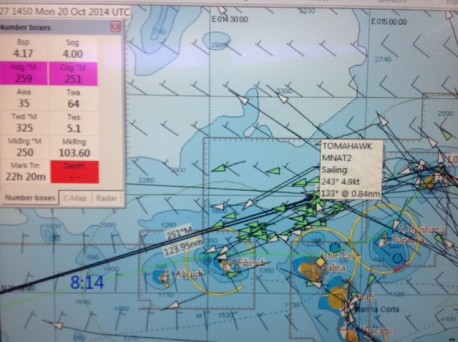 The all knowing Expedition screen.
We had to make a passage to Capo San Vito on the NW corner of Sicily, close to Palermo of 130 Nm. At this moment, whilst writing this blog, we have not even covered half of that and based on our present speed of 2 knots we may not be able to deliver Reima timely on the airport in Malta or worse not finish the race time. The time limit for all boats is set for Saturday 0800 hours.
Somewhere during the day we discovered again MALTESE FALCON II, not so far from Ross Applebee's SCARLETT OYSTER. They must covered an enormous extra distance to keep themselves of the areas witout wind. Either of them could be a surprise winner of this race. If so, they have deserved it.
We are trying to keep the spirits high and we expect winds of 35-40 knots on Wednesday afternoon. Though we are for sure sailing in the front or near the front of IRC5-Class boats, we cannot be possibly sure how this race could end, if any boat would finish in time. It is still 67 Nm to the next mark Capo San Vito, whilst our present speed is only 1 knot (theoretically taking 4560 minutes) . At the same we expect in the evening 15-20 knots of W winds, to increase by tomorrow to 35 knots NW.
I guess that the boats reaching first Capo San Vito will take the silverware home, since the race may become a rat race after that mark with little or no choices for any tactical moves.
Life on board is strange now. No action, lots of coffee and tea whilst we try to cover our Northerly skins from the sun and heat. On the water we feel the heat of DUFFY, ANOUSCHKA, AZUREE and AMAPOLA in our neck. We have still no idea where SAGOLA BIOTRADING could be. At least she does not show up on the AIS.
Our friend and crewmember Wout van Everdingen says often something I will now borrow from him "the ones who stay home, are always wrong". Thanks for your wisdom Wout.
Tomorrow Day 4, another one will take the writing pen to tell our stories.