Our stay in Grenada
December 6, 2014
Upon our arrival we proceded to hotel La Luna, after having shaking hands with Chris Jago at the airport.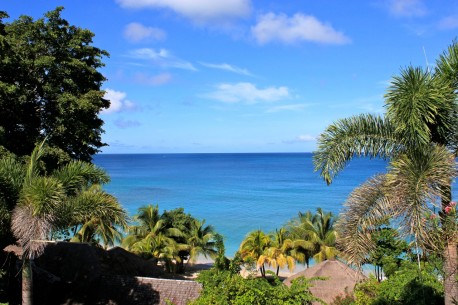 beautiful view from our Hotel La Luna at Grenada
Sophie was in the sea within five minutes after our arrival, ignoring my warnings for cocodrilo's (the Guatemalan way of spelling) and requins (tiburons in Spanish, Patrick?)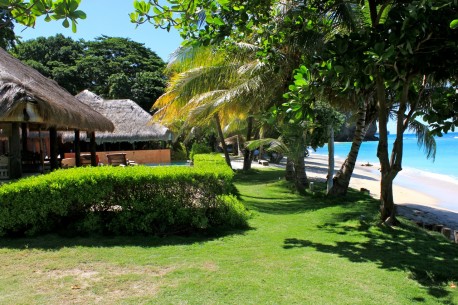 La Luna Hotel
The place looked like a paradise so we stayed there the afternoon. We only had to promise the manager of the hotel, Tracey, to visit the next day some newly built bungalows close to the hotel. I wondered right away what Chris Jago must have told her (..).
Sophie did swim that day two times more. I had to join her to protect her against the cocodrilo's and requins.
So the next day we looked at the newly built bungalow for Louis Hamilton. Five bedrooms, beautifully designed by Italians, and what have you. No interest on my part.
Then Chris called and invited us to make a trip on his American Marine Grand Banks. We had lunch at his Yacht Club and took off on his super clean and shiny boat, taken daily care of by Roger.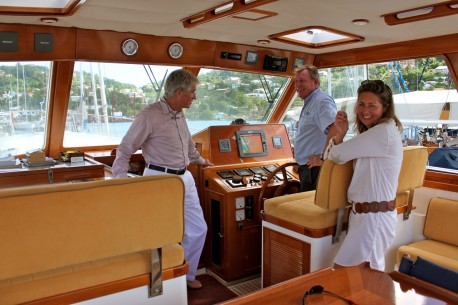 boats trip with Chris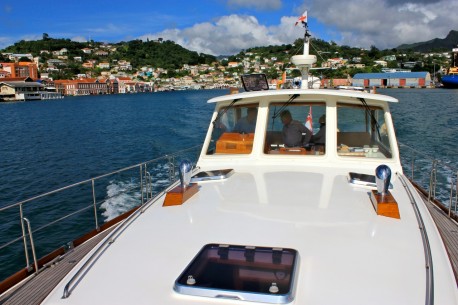 St. George, Grenada
Two big Caterpillars, 21 knots. Chris on the wheel, safe a like a rock.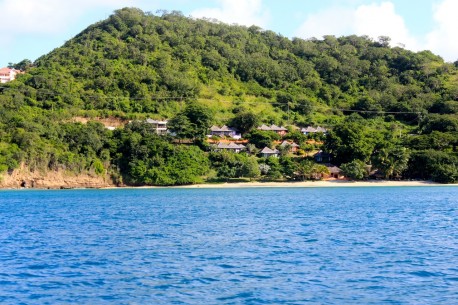 Hotel La Luna from the sea
At the transom of his boat there was the white Ensign (Trisha!), binding Chris and me, but only since April this year. Thanks Chris, Martin, Mike, Adam, John, Peter, Andrew and Géry!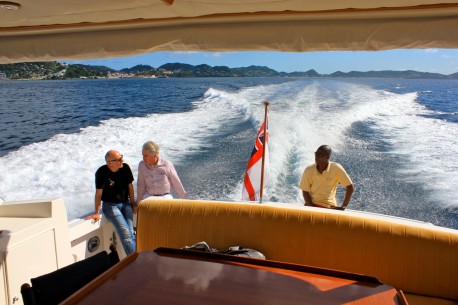 Urs – Harry – White Ensign – Roger
Later we discussed a representation of Sevenstar at the Island of Grenada which Chris believed is of importance. So I called Jan-Maarten Boissevain. He told me that they were considering such a thing.