WINSOME left her winter paradise at Berthon's today 26 March
March 26, 2015
Last night I became ill and since it rained in the morning it was our idea to go by taxi and ferry to Lymington.
However I recovered in the course of the morning. Lesley of John Martin helped us with his car to buy a new jerrycan, to take 10 litres of petrol at Lallows etc. Leen drove LUNA from RYS haven to Cowes Yacht Haven whereafter we took 200 more liters of petrol, just to be safe. Mind you the consumption of the Suzuki engine is about 15-20 litres for a trip Cowes-Lymington.
We arrived at 11 AM. The B&G masthead unit arrived at 1 PM. At 3 PM we left Berthon's for Cowes, Leen with WINSOME, myself with LUNA.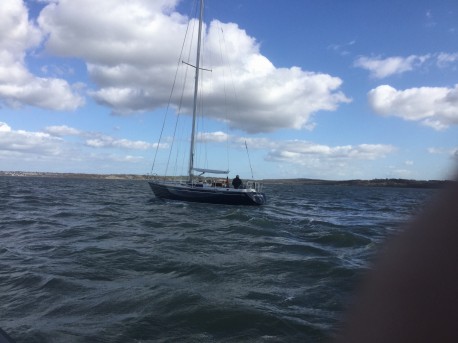 Solent near Beaulieu River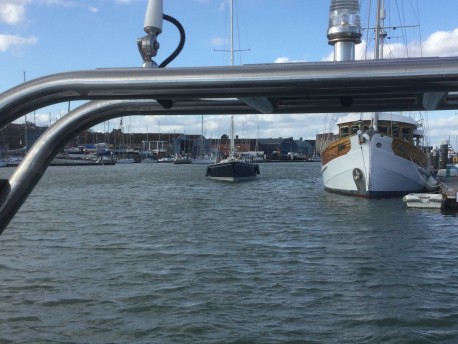 Shaving DAWN HUNTER
Lots of small things have been done, but even more are waiting to be done Wednesday 1st April and Thursday 2nd April befote we can start racing in the RORC Easter Challenge races. We will fly black via Southampton on Wednesday 1st April at 09:50 and I know that Herman and Robin will also fly on that day.
Winsome's Cottage is still under heavy repair, but the new staircase in the house is entirely ready. What is left are more repairs on the roofs and inside Laura's fancy bed room.