Round The Island Race 2008
June 30, 2008

The world's second largest yachting race, the Round the Island Race, took place on the 28th June 2008 in Cowes, Isle of Wight, England. 1750 yachts lined up to start from 06.00h to circumnavigate the island. The 50-mile course around the Isle of Wight saw some of the biggest names in the sailing world competing with weekend sailors and family crews, so WINSOME was there. Harry, Andy, Boj, Richard, Nicolaas, Joost Dantuma and Joost Heikens were all looking forward to a great day on the water.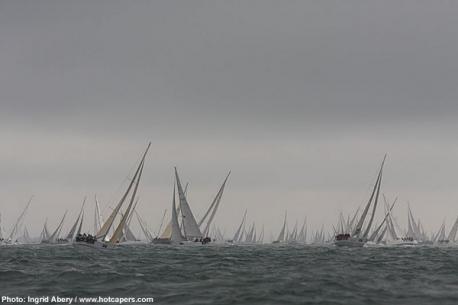 The Solent was crowded, one could probably walk over the yachts from Cowes to the Hamble, was it not blowing 16-18 knots of wind. Every vessel that could float and had sails was on the water! Open 60's, the Leopard and Extreme 40's were tearing up the starting line occasionally missing boats by a couple cm's (that's about an inch Andy!). Hugo Boss, the black Open 60 was involved in a pre start incident when she snagged the backstay of a Farr 45 with her bowsprit. The Farr was dismasted while the bowsprit of Hugo Boss was torn clean off. Now we're yacht racing! After a good start steered by Andy it was a beat up to the Needles in progressively demanding conditions. There were boats all over the place, the wind increased to 23 knots. During a tack to avoid other yachts our genoa I got stuck behind the spreader tearing the sail…. Nicolaas and Boj quickly changed to the number II, the loss regretfully was a couple of boatlenghts.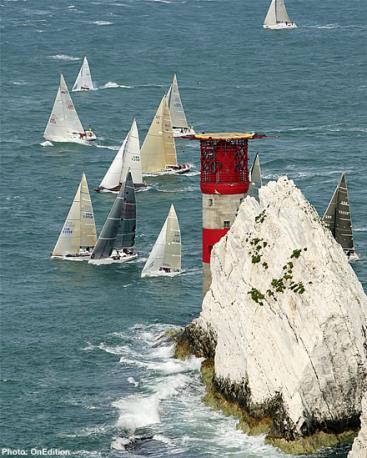 Rounding the Needles (the picture shows WINSOME bearing away from the Needles) the sun broke out and we had a fast ride under spinnaker to St Catherine's Point, and Bembridge ledge. The wind topped 27 knots and WINSOME was making boatspeeds of 8-10 + knots. Spinnaker blow outs were seen all around us, broaches and damage to boats. Today was definitely a sailmakers ultimate dream! The carnage list compelled by thrill seekers could give us the following stats: 4 boats were dismasted; 5 boats were damaged and needed a tow; 1 boat sank [a Laser SB3]; 1 boat upturned / capsized; 11 MOB; 5 injuries including one person lifted off by helicopter to Southampton General with a head injury and 5 boats grounded. In total 193 boats retired from the race.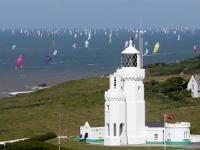 Just off Dunnose Point we were discussing when it would be the best time to gybe when the decision was made by the old Lady herself: the boom came over, the discussion ended, we quickly tripped the spinnaker boom. Voila! Rounding the fort was another beat up the solent in 22 knots of wind, a strategic game of snakes and ladders between shallow banks, puffs (is it spelled correctly Andy?), other boats (and ribs…. we even had to duck LUNA!) and even the Wight Ferry, respecting the S&S by navigating around our stern. After 7 hours, 16 minutes and 25 seconds we crossed the finish, satisfied and memorating that this was one of the best sailing days till date. However it was not good enough for first place, on corrected time we were 5th, 20 minutes after number 1 (for all the results in IRC 2c: https://www.roundtheisland.org.uk/web/code/php/main_c.php?page=results&section=live&map=rir&style=std&ui=rir1&override=&classrequest=180&submit=Go). A bit disappointing but after Andy's roast and a couple of PIMM's all were laughing and enjoying the end of a great day. The next day we all packed, prepared WINSOME for her off shore race in two weeks time and brought LUNA to the wharf. It was a pitty Francois was not there because she is in need of some love and tender care the coming days if she wants to take care of us this summer. I'm sure she can be fixed. Richard flew on to Barcelona, Nicolaas went to get some new schoolbooks, and Harry, Ed, Boj, Joost and Joost left for Bembridge to check on the Hokus Pokus, if she hadn't toppled over in all the wind of the last days. After a great flight back along the English coast at 1500ft, seeing all the yachts and even Antares with all her fishing gear out, we arrived back in NL, looking forward to our next event. Andy thank you and Sue for your hospitality, besides driving WINSOME, learning sailing illiterates correct weather terms I now know you are also a great cook! Harry thank you for letting all of us enjoy another great weekend on the water, we wouldn't have missed it for anything!