Latest news
August 5, 2023
Today's weather forecast was mixed conditions again, with a N-NW gradient wind of 10 knots and the possibility of a southwesterly sea breeze developing in the afternoon. As in all previous days, Boj presented us with a very clear weather briefing in the morning that proved to be spot on again.
The Race Committee made an effort to get a fair race in before the conditions would get too light (like yesterday…). So we started off a committee vessel line close to the Bramble bank at 11:00 AM.

We had a challenging start close to the pin end and had to work our way out of the dirty air on the short first upwind leg. We managed to do this quite well until the first, very busy, windward mark. Whilst we were already preparing our spinnaker hoist we had to tack to avoid the right of way of boat Nightjar. This resulted in a messy tack with us ending up at the back of the fleet. Nightjar protested us whereafter we took a 1% penalty. As the fastest rated boat in the fleet, we knew what had to be done. We kept our heads cool and started playing catch up.
On the second beat we managed to climb our way back to the middle of the fleet. After a smooth rounding and hoist followed a close reach under spinnaker 1. We climbed back a few more positions. In true Solent style a cargo ship came through the shipping channel. We had to cross just before our leeward mark, which was on the Island shore in front of Osbourne House. Luckily we managed to sail in front of the ship to not get separated from the front boats in the fleet.

We sailed a good first half of the third and last beat, hugging the island shore to stay out of the tide.

This also meant we were positioning ourselves on the left hand side of the course, and a left hand shift helped us to get back to the front of the fleet. It looked promising until the wind veered right approximately 10-15 degrees, which meant that the boats on the right hand side were in front of us again. Especially Cetewayo did very well on the right hand side.
After rounding the upwind mark on the West side of the Bramble bank followed a close reach with Genoa on out board sheet to the Gurnard cardinal mark. There we had to make a sharp turn around the buoy with a gybe-set for the last downwind stretch towards the finish.

Unfortunately this last leg was too short to make a move to improve our position, but it was great to have a classic Cowes Week downwind finish on the RYS Castle Line together with lots of other smaller and larger boats from different classes.
In a final team effort we gave Winsome a good wash down with freshwater and prepared her for the delivery to Caen in a few weeks.
The result of today's race was another 9th place. Not the result that we would have liked to finish the week with. However, when we checked the overall results we noticed J'ronimo was disqualified today due to a protest, which promoted us to a second place overall! At first it didn't feel completely deserved, but in the end sailing steady and not getting into trouble payed off.
We would like to congratulate Quokka9 with their well-earned first place and J'ronimo on sailing a really good week as well.
Thanks to the solid performance of the other teams on Dauntless (Giles Peckham, Daring) and Leon (David Franks, IRC 2) we won the Solent Team Trophy for the Royal London Yacht Club.
So after a mixed week with challenging conditions we still got to collect two prizes which gave a good feeling to end Cowes Week 2023. We enjoyed a drink together on the terrace of the Lifeboat Inn in East Cowes, as Lennard, Joost and Floris had to leave from here to drive straight back to Holland for other obligations tomorrow afternoon.
Harry, Sophie, Leen, Laura, Herman and Boj went to the Mortons for a drink and were happy to collect the prize. We congratulated J'ronimo and Quokka9.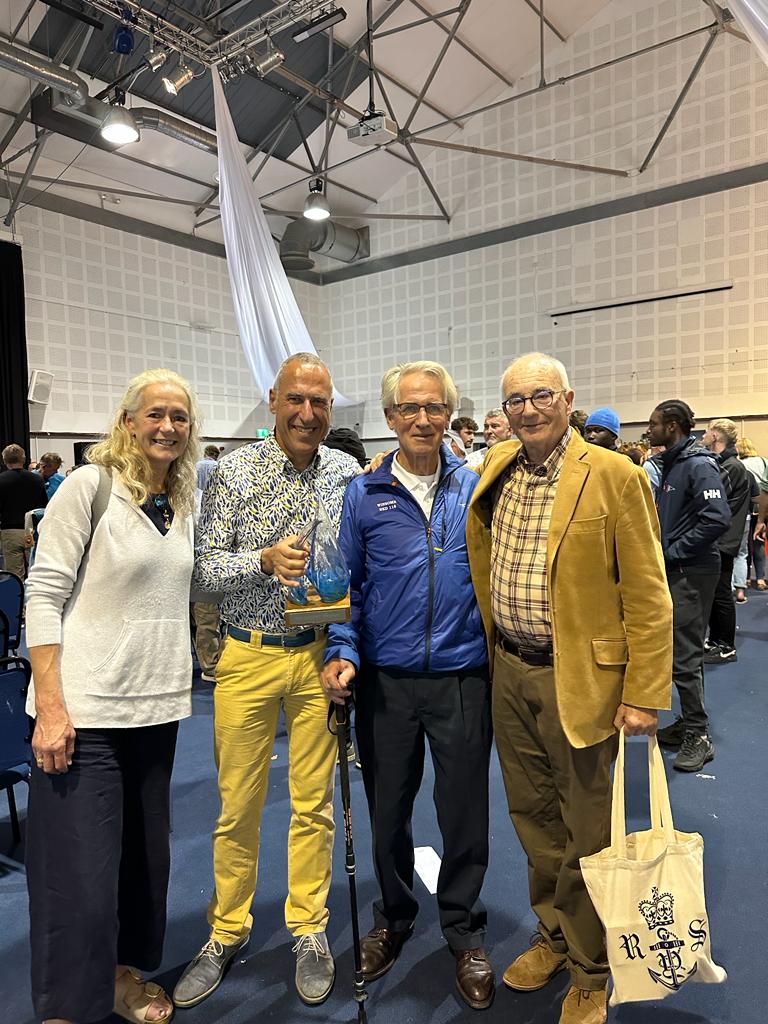 Thank you Harry for another great week in Cowes. We feel privileged to be part of such a great team! It's hard to say goodbye to British summers, but we are off!
Cheers.