Cowes Week 2011, Day 1
August 6, 2011
Yeehaaa!,
We've won and with a margin, although it did not look like we would do so from the start.
We started 150 mtr south of the Committee vessel on the RYS line. As the tide was running to the East, we were faced with lots of tide against us. We started south of the pack to say in clear air. Although we had some confusion as the indicating light and the exactly in the same direction, we started two boat length below the actual line. We had a beat towards LEPE SPIT. Many short tacks inshore.
We where within the first 5 boats in our class, really close to YES!. Suddenly, our luck vanished. The depth sounder was indicating more and more, and we only realized that it was suffering from a mental breakdown when we hit the bottom at 6.5 meters. As 4 boats, including FEVER sailed by, we thought we had to start the fight again. The helmsman and crew worked WINSOME so well, that we actually got to the first mark (GARMIN) in second place on the water. After a really short downwind kite ride, we rounded the next mark almost at the same time as YES!. This time YES! could not keep up with us on a 2.5 mile beat along the coast, as she was kept up by several J109's we had to overtake.
The run down back to East Ride Middle, was the only time we made a tactical  mistake. As we were leading the fleet, we wanted to stay in between YES! and the next mark. Somehow we stayed much more in shore, than we had originally planned. YES! was in deeper water with more tide pushing her. Though with the help of Ruby, YES! did not manage to make a significant gain. Two nice mark roundings,  and the fastest genoa swap I have ever seen, made us ready for the last beat towards the finish. We sailed well, as close to the SRAPE finish as possible.
A gun for first place on the water was well deserved. We finished 4 minutes and 10 seconds in front of YES! after 3 hours of sailing.
Weather is looking good for tomorrow with 12 – 15 kts forecasted. We hope to bring you more good news again tomorrow.
Regards, Boj
Check this link for the actual result.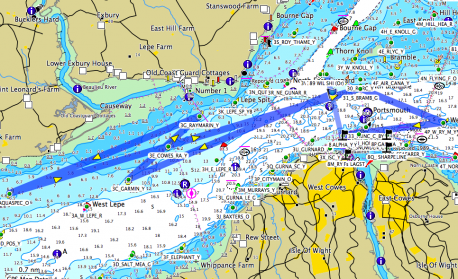 Post by Boj | August 6, 2011 |