Round the Island Race 2012: Great sailing, good results
July 1, 2012
This year the 81st edition of the RtIR was sailed. Peter Morton, Harry, Floris, Hidde, Boj, Joost D, Joost H, and Ed -replacing Leen- stepped on board to compete. The morning started wet, cloudy and windy. As was expected. Wind ranged from 20-27 knots. With 1647 yachts on the Solent, the starting line was a bit crowded with a start of 168 boats in IRC Class. 1198 were to finish the race later that day. Due to the strong wind the small sportboat classes were cancelled. With our number 3 and full main flying we powered up and after a conservative start we tacked our way up the Solent to The Needles. Needless to say, after the start it is nearly impossible to sail your own race, as it is dictated by all the other yachts. This year was a good year, no Gaff cutters or other prehistoric yachts came near us, leaving all bowsprits intact this year.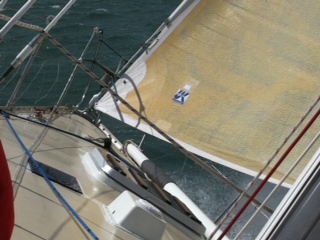 After rounding The Needles the sun came out and some of the best sailing of this year started.  Clear skies, sun and a great crew, this was the place to be. It was a fetch and parts a reach to St Catherine's Point. We hugged the coastline to avoid the current as much as possible and flew the kite (number 3) for a part of the way.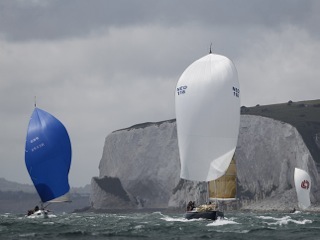 With the wind at 27 knots, it was quite spectacular. Many broaches and torn spinnakers were seen around us. Peter did a magnificent job in driving the boat, a lot of work in these challenging conditions. After St Catherine's Point it was more of a run dead down wind past Sanddown bay and Bembridge Ledge. We changed to the nr 2 spinnaker and had an exciting ride. In an attempt to avoid a starboard yacht we had a wipeout and had to take down our nr 2. We quickly recovered, changed back to the number 3 spinnaker and sailed on. Coming back up the Solent, it was a fetch and later a beat to Osborne Bay, before we could cross the finish line. Two years ago we finished first and last year second in our class. Expectations were high but keeping in mind we did make a couple of mistakes, we were wondering how we did. We finished third in our IRC-2C Class (3/45), just 6 minutes after Mongoose, regular competitors and a good campaigned yacht on the Solent. 15th in the entire IRC-2 Class (15/168).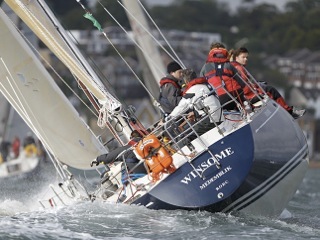 All in all, it was a great day. Beautiful sailing with great friends and a good result without any damage. What else could we ask for? In two weeks will be the St Malo Race. Follow the site for an update.
Bon Vents,
Joost