Wet and Windy Wednesday
August 15, 2012
Today was predicted to be a very wet and windy day, the Met Office predicted that the winds would be South-East 20-25 knots with gusts into the 30's, veering to South-West in the afternoon. The Race Committee therefore decided to cancel racing for all white group classes and for classes IRC 6 and 7. Although when we sailed out of the Medina the weather wasn't particularly nice and it was rather bumpy, it didn't quite stood up to the expectations we had on the basis of the forecasts. From having watched the IRC 2 and 3 starts we deducted that wind shifts would have a major impact on the first beat.
We had a good start near the starboard end of the line and passed the line almost on the gun. We had anticipated lifts on the first half of the beat. Fortunately, our game plan turned out quite well and we managed to work ourselves into the top of the fleet. Conditions were challenging, with lots changes in wind direction and the wind going light. This led us to mock the headlines of the Cowes Week site and rename the day to 'Wrong Weather Forecast Wednesday'. The initial prediction however proved to be right in the second beat when the rain started pouring and the breeze picked up.
In the third beat towards the Peters & May racing mark, the wind built even further to 27 knots which prompted us to take the Genoa no. 1 down even before we could hoist the Genoa no. 3. The clouds broke open giving us virtually a good shower.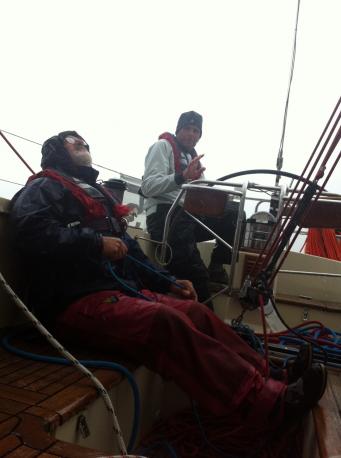 From there on the race continued with a long fetch to the Royal Thames Yacht Club racing mark followed by a very tight reach. With the breeze well in the 20's, this reach proved to be quite hairy with the no. 3 kite on. Especially as we also had to keep sufficient height to avoid running aground on the Bramble bank.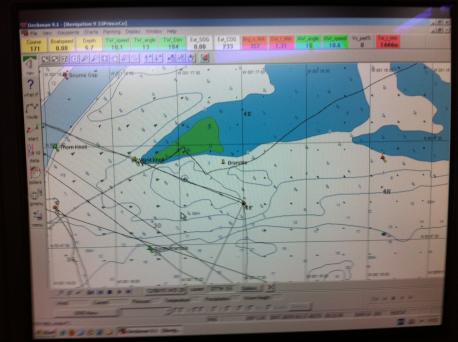 Eventually we finished fourth on the water, just on the stern of Xcellent, and came in fourth on handicap as well. A good result given the challenging circumstances and leaving us with not too much distance of the silverware. Hopefully we manage to sail one or more top-three places the coming days.
We'll keep you posted!
Joost Dantuma
Drying spinnakers after Wet and Windy Wednesday