Cowes Week, the final act
August 10, 2013
So it did not turn out to be a 'lay day'. Friday was another beautiful day to go sailing with 10-14 knots of wind. The pressure was on, we needed a really good result and even more, we needed some other yachts to finish between us and Zarafa, Alaris and Xcitable. So really it was not completely in our hands.
We had a start, in the middle of the Solent, battling 3 knots of tide on the bow and a favoured boat-end of the line. We had to start halfway down the line to stay in clear air and just above the pack, to be able to sail over the line keeping Winsome going at the same time.  It was a beat up to the Sevenstar buoy, a port rounding and a reach with the kite back up to the island. Then another beat up to the West where a major decision had to be made. The mainland shore had less tide, should we go there or do we stay with our competition. We decided to do the last, which was a good decision. However, it did mean that we could not completely sail our own race, good compromise? We were slowly losing Alaris and Zarafa rounding after rounding, or to put it beter, they were losing us. Our final downwind leg brought us nearly up to the green next to the squadron. Excellent navigation from Harry and teamwork from Boj and Laura made swimmers move aside, with their eyes looking like those of a deer caught in headlights. I find it hard to believe any other yacht came this near to the shore. We made up some ground on this final run, however, it was not enough. We came in 5th on corrected time. Congratulations to Zarafa, Raging Bee, Xcitable and Alaris. We sailed a good race, they were better.
So we were not able to maintain our 2nd place overall, and ended with a fourth. Harry is discussing with the Race Committee to extend the podium with a fourth place…. Friday evening was Burger night at Pier View (some say the best burgers in town!) and watching the fireworks at Piet Vroon's place. Piet wil be contesting in the Rolex Fastnet Race this Sunday, it wil be his 24th time, that is impressive. We wish him all the best. After the fireworks we were joined by the remaining Fastnet crew and had drinks outside of Pier View. We were animated with the classic High Street fights, combined with the more than decently dressed population of drunk people. A proper night out.
To sum it all up, a bit with a personal note, it was one of the best weeks ever. The weather was good, winds were great, the boat handling was one of the best up to now. Results were very consistent, we were looking good, yet no gun……
A special word of thanks to Laura, a talented helmswomen who had to put up with a bunch of Dutch sailors. She lived up to our expectations and beyond those. We look forward to welcoming her on board again in the future.
Harry, thank you very much for making it all possible. The whole crew enjoyed Cowes Week  and good sailing on Winsome. We wish you all the best as Fastnet rock is nearing after your start on Sunday for the Rolex Fastnet Race. New adventures on the blog will follow shortly, this is Cowes Week signing off.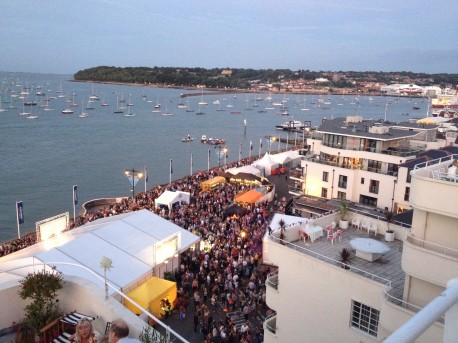 Joost