Round the Island Race 2014
June 24, 2014
Purpose of this evaluation is to learn from the Round the Island Race experience and do better in Cowes Week. As I've written it down, why not put it on the site so our RtIR crew and others can comment on it. Please feel free to do so.
Kind regards,
Boj
Crew:
Harry – Nav
Laura – Helm
Leen – Main
Joost D – Trim
Jasper Heikens – Trim
Hidde – Mast
Floris – Bow
Boj – Pitt
Pilatypus
Urs – Pilot
Forecast: Extremely light weather. According to the WindGuru App; West 1kts, 'gusting' 3 kts, veering to NW 6 kts in the afternoon. Living weather Guru Chris Tibbs; also light, more in the range up to ten knots, with a small chance of sea breeze in the afternoon.
Local input suggest light airs SW towards the Needles with possible zephyrs on the North shore, light winds towards St. Catherine's and Bembridge and a possible Sea breeze on our way to the Finish.
Tide: HW Portsmouth 6:56. The tide will be east for the first 4 hours into the race. From 11 till around 17:00 the tide will be running to the west.
Start: 7:20
In the our before the start winds are light 3-5 kts. Wind is SW shift up to 20 degrees happen. In the last 20 mins there seems to be a consistent shift to the WNW. We start with the Genoa I Light. The strongest tide is about 200 m North of the RYS Flag staff. To keep in clear air, we decide to start on the Southern end of the line, however windward (N) of the pack, so 300 – 400 m from the RYS. Our confidence in the new Expedition software is growing, so with a little help from the computer we started 3 boat lengths behind the line. Not bad in these difficult conditions with hardly any wind, a heavy boat and 3 knots of tide trying to push us OCS. It is a proper beat, however Genoa and Main are trimmed for speed, with soft sails.
After the start we tacked inshore to get most of the tidal benefit. Tacking in the strongest tide.
A track of the start with the starting line and our first part of the beat past Gurnard: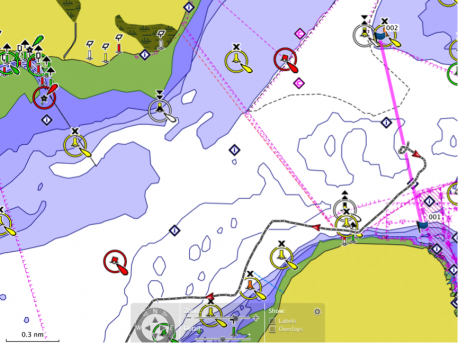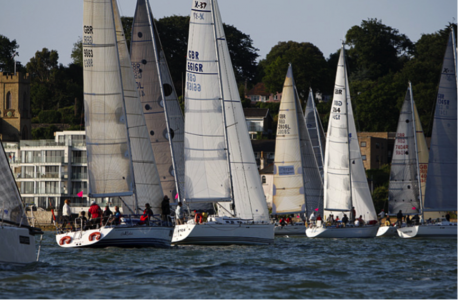 Leg 1; Gurnard – Needles 13 NM
Very light winds, with a strong tide pushing us. The wind shifts 20 degrees with only minutes between the shifts. With a heavy boat, and many obstructing boats in the classes in front of us, our aim is to tack up the Solent. Tack the big shifts, while avoiding dirty air and staying in the deep water with the strongest tide pushing us.
There was some discussion on pinching versus wind shifts. In general I feel that the communication between the trimmers and the helm was constructive and helped us to gain in speed.
To two small mistakes; 1. Our last tack towards Yarmouth was late (The tack closest to Lymington). We might have sailed out of the strongest tide across Lymington and in the next starboard tack, we did not benefit as much as possible from the tidal advantage near Yarmouth. The Tack after Hurst castle was also slightly late, therefore we came to close to the Shingles. The malfunctioning Winds Angles are to blame for this mistake.
Rounding the Needles
This was perfect sailing. By going inside the Varvasi wreck, we gained a lot. While is was exciting and difficult sailing at the same time. Communication between Nav-Pitt-Helm was never disturbed and we kept on trimming for speed. A nice hoist in almost no breeze, with great flexible sailing (an early drop and soon another hoist and drop), we executed well, as all was aimed to keep WINSOME sailing.
We picked up the back eddy towards St. Catherines.
Leg 2 Needles – St. Catherine's 12,8 NM
We decided to stay away from the Island to stay in the wind. For a long time in the leg I thought we had made the wrong choice. Although we picked up more breeze then to boats inside, they seemed to do better by being in the Westerly tides, earlier then we did. Fortunately the predicted right hand shift came as we were approaching St. Catherine's. We were able to make it, but the boats inside were forced to sail a short beat. In hindsight we did very well on this leg as we gained a lot on the boats outside. Also we gained some on the boats that went shore hugging.
Although the sailing was difficult and demanding we switched to a more offshore mode with crew in different positions helping each other out. There was time for a snack and some social talk.
The rounding of St. Catherines was again good. We stayed out of the back eddy inside (2 boats were absolutely parked here, with hardly any wind and a private tide against them). Outside the boats seemed to have a little more breeze, but that did not make up for the longer distance they sailed.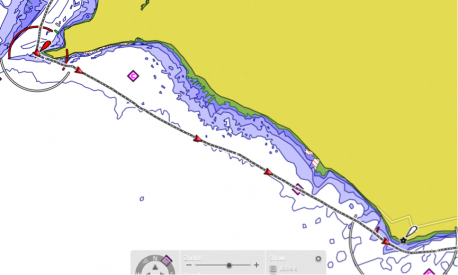 In summary: The shortest distance between A (Needles) and B (St. Catherine's) is a straight line….
Leg 3 St. Catherine's to Bembridge Ledge Bouy 12,3 NM
We put the kite up when we were well clear of St. Catherine's as we wanted to get into the deeper water with the stronger tide pushing us towards Bembridge. As we breeze went very light 1-3 kts, it was hard to fill the kite a some time. In general we did well, at some times we were overtaken, especially by lighter boats such as Scenario Encore , ¾ Tonner. The wind was local, light an patchy, so we also gained in other timed. Looking back at this leg, we sailed well, kept good speed in hardly any breeze. We gained in the first part, but lost in the part from Ventnor to Sandown. When the wind picked up again, we started overtaking again.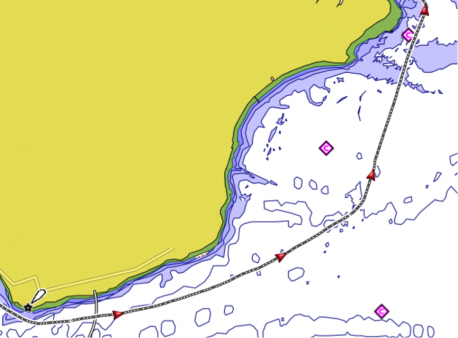 Leg 4 Bembridge Ledge – Finish 10,4 NM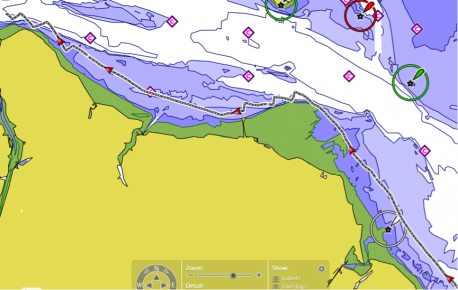 A reach with the pole on port towards Ryde Sands. Approximately 14 kts. Laura managed extremely well to shake of other boats, who wanted to overtake us to Windward. Harry's information on the shallow water inside was very accurate and we sailed nicely as close as possible to the shore. No losses in my opinion. From Ryde Sands towards the Finish was a very difficult part of the race. A beat with winds shifting almost 25 degrees at times. With the tide against us, we tried to stay out of the westerly tide by hugging the sore. In this part of the race, we lost a bit (and more the just a bit at times). Our Second tack towards Ryde Sands could have been slightly longer. As we did not extend this tack to the max, we had to do another tack in. This one was not so good. We sailed a header and over stood almost immediately. We did not gain as much as we had anticipated by going close to the shore. The final tack inshore was around a powerboat. The 'typical obese motorboat owner', was curious and came out and had a look at us.
Something like this;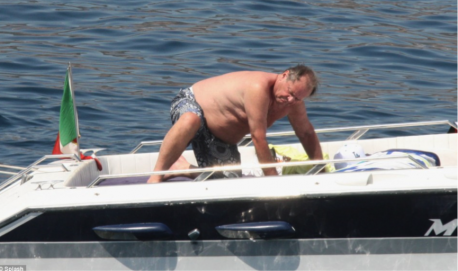 But so did his younger topless company, something like this….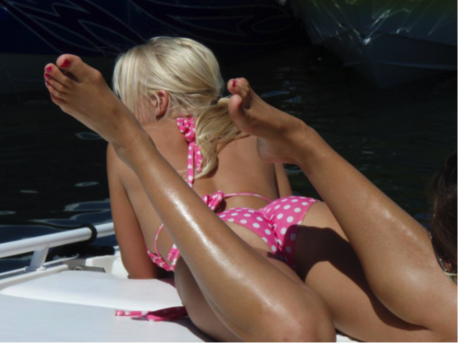 I don't know what did the trick, but our final tacks were all perfect.
Result
A finish in a race with 50% drop out.
2nd in IRC 2c (Out of 36).
10th in IRC 2 (Out off 180)
43rd in IRC overall (Out of 500)
Summary
Good focussed sailing, no big mistakes, only small ones (but obviously less then most opponents). Great communications at important moments (Start, Needles Rounding, St. Catherine's Rounding). At moments of loss, no loss in concentration, or start up of disturbing discussion. Discussion was always focussed and aimed at improving boat speed.
Better 'eyes out of the boat' than ever by all of us.
Bad Wind angles (no accurate lay-lines).
Reminder of the lesson to execute your plan (if you tack inshore to stay out of the tide, do it fully).
On Sunday Urs proved that RtIR can be done in 17 mins by Pilatypus, so Sir Ben, be aware in 2015.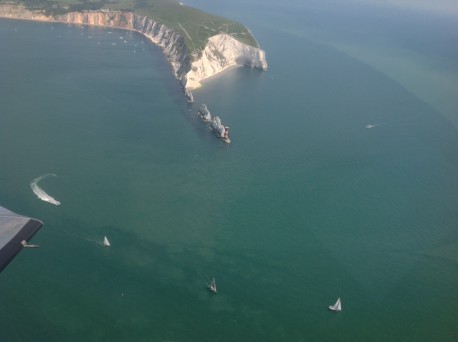 Post by Boj | June 24, 2014 |