AAM Cowes Week 2014 Day 1
August 2, 2014
New Class, new opponents, new opportunities. In two days of practice we managed to improve the heading, the wind angles, the lay-lines and our crew work. Joost N picked up some serious bruises during the practice runs on Friday. Besides the damage to his ego, he was also WINSOME's very first DDJ ever.
On friday night we discussed tides, wind predictions and possible courses, but it all had to be done on Saturday. Today was D-Day for all of us.
Laura – Helm
Leen – Main
Joost D – Trim 1
Hidde – Trim 2
Boj – Pitt
Harry – Nav
Joost N – Mast
Floris – Bow
Some freshening morning showers cleaned the crew, so we sailed with a fresh boat to the start in the area of Browndown in the Eastern Solent. We pinged the starting line and did some practice tacks. As the course came through by sms, it meant we were ready.
Below is a picture of the course and the actual track we sailed: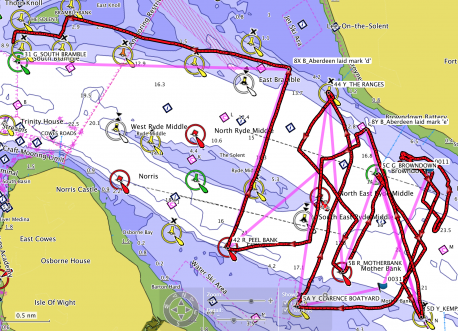 We had a good start in clear air. Unfortunately we were unable to sail as high a s MALICE on the way to the first mark, which made us sail in some dirt for a little wile. The good news; as we are the slowest boat in our fleet (on handicap) we were still able to keep up with the front guys.
On the second downwind leg (Southerly winds during the day) we were forced into a pack of boats, but by sailing the kite without the pole (as practised) and doing a crash drop, we managed to wiggle our way out.
On the third downwind leg we had some trouble putting up Ruby.
On the next upwind leg, we made our only big mistake. Despite the wind being forecasted to have a consistent right hand shift during the afternoon, we went left of the fleet. As at this stage the right hand shift came through, we lost some time on the leading boat. This actually might have kept us from winning today.
While preparing for the final downwinder Floris let go off the starboard kite halyard, which made him DDJ number two.
The final beat towards the finish was great. We negotiated our way through field of Squibs and other classes an got into the shade of the bramble bank. The tide was still running towards the East, so we made up some of the time lost in the earlier upwind leg.
We came in fourth. All in all happy WINSOME, happy crew, but craving for a gun and a win!
Sea ya tomorrow,
Boj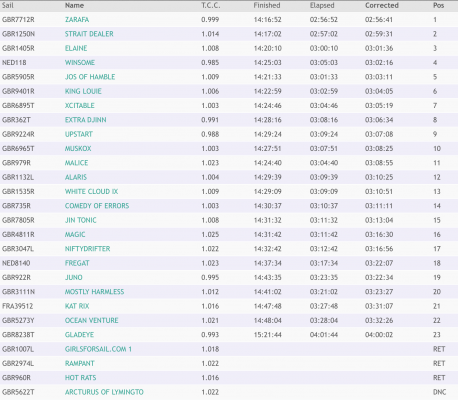 Post by Boj | August 2, 2014 |