AAM CW 2014 Day 2
August 3, 2014
A day of mixed feelings….
Today brought us winds from the west between twelve and eighteen knots and a West going tide. We started in the middle of the Solent and had a classic first beat up the North shore past Lepe Spit. Because the wind had died down to twelve to thirteen knots we decided shortly before the start to switch from Genoa one to Genoa two. Unfortunately we did not start as close to the Committee vessel as we had anticipated, this became clear when we noticed Strait Dealer and Zarafa having gained a lot of ground on the first tack towards the North shore. From then on it was a game of staying as close in shore as we dared to do. This involved a lot of tacks (see the zigzag pattern below) and wore Hidde and yours truly down rapidly as the wind had in the mean time increased to sixteen/seventeen knots.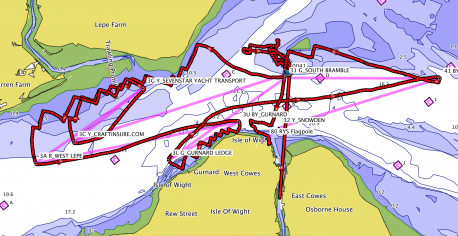 In the scramble of tacks we made an error in judging whether or not we could cross Hot Rats' bow. In the end we were not able to make it and they had to tack. We admitted fault and took a 1% penalty and carried on. We have been experiencing problems with Expedition, our navigation software, and could not rely on the predicted lay lines. We doubted as to whether or not we could make the mark and decided to throw in a tack for safety. This cost us dearly as we overstood the mark by quite a bit. This unfortunately happened one more time today.
Our crew work was however good and we made some good gains tacking up from Egypt point to Gurnard. The final beat to the finish was tactically very challenging as we had to make a choice whether to cross the Solent early towards Norris and seek tidal relief (and perhaps an eddy) or to continue in the lee of the Bramble and cross over at a later stage. We choose for the second option. Although we executed this really well and gained on the other boats doing the same we lost out on the boats crossing earlier.
In the end we finished fifteenth on the water and came in eleventh on handicap. We know what to improve for tomorrow and will give it our best to forget today's result.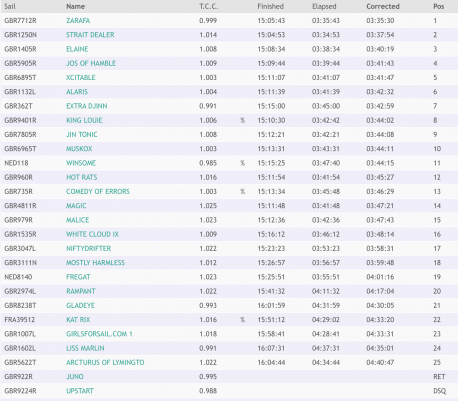 A picture of Harry recruiting future crew member Noah Kroon.
All the best
Joost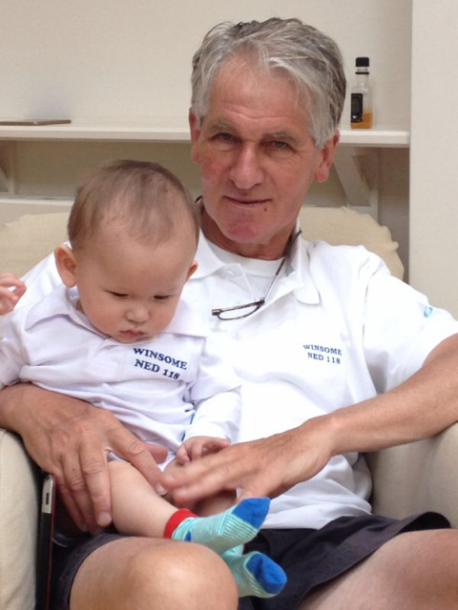 Post by Boj | August 3, 2014 |