AAM CW 2014 – Day 7
August 8, 2014
Today we had the final day of Cowes Week 2014. Unfortunately, due to light winds, there was no racing again today. The final 3 days of Cowes Week 2014 were not very good for Winsome – Black Wednesday due to Winsome's OCS and then no racing on Thursday or Friday. We learnt today that we were 1 second early for the start on Wednesday. It would have been a very different regatta if we had not been 1 second early for the start on Wednesday or if we would have decided to go back. We are now 10th overall. 5 races in total were sailed and no discard was allowed, so unfortunately we have to count our OCS (29 points). It is a good lesson and one which we will not forget too quickly!
Last night, we had a fantastic dinner at Peter Morton's house, eating lobster and drinking champagne with the Salvo and Yes! crews. We would like to sincerely thank the Morton's for their fantastic hospitality. And congratulations to Adam Gosling and the Yes! crew that won the Black Group Overall. This is Yes!'s 3rd time (two times on their current Yes! (Corby 36) and once on their previous Yes! (Corby 29)) winning the Black Group Overall.
This morning, Winsome went out at 9.15am and due to light winds the racing was cancelled at 11am. During our time on the water, Floris decided to explore some of the buoys in the Solent, particularly the South Bramble buoy. He got to explore it extensively during his 15 minutes on the buoy!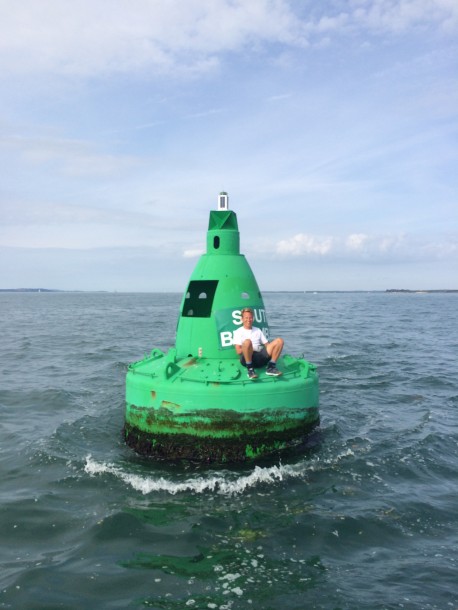 Despite a disappointing overall result, Winsome learnt a lot of lessons this week and we hope that we will remember them all for next year! The main lessons for 2015 are:
1. Winsome's preparation for Cowes Week 2014 was very good. The entire crew did UK IRCs (3 days), Round the Island Race (1 day) and 2 days of training immediately prior to Cowes week. We should do this preparation again next year
2. Every evening we did a crew debrief, analysing the performance of the day and also a weather and tide briefing for the next day. This worked very well and we should definitely continue to do this, to ensure that we improve on a daily basis and learn from our mistakes
3. When we get the course for the day, we should try and draw the course on a chart and ensure that if possible, the entire crew is aware of the course for the day including which marks we have to round, in which order
4. Our pre-start checklist (the 9 points as outlined on our blog yesterday) should always be adhered to
4. When starting, take the most conservative view from the navigation instruments and bow person (Unless we are 100% sure that one is incorrect)
5. Make a decision, whether we believe we are OCS or not. If we believe we are OCS, immediately return and start correctly. If we do not believe that we are OCS, then race a normal race. We should race a full race and look at the results, after the race
6. When in an incident with another boat where we believe we are in the right, always shout protest and pull out the protest flag immediately. Likewise, when we are in an incident where we believe we may not be in the right, wait for the other boat to shout protest and pull out their flag. We should then immediately decided whether to take a penalty or not
7. We need to ensure that the instruments especially in terms of headings, speed and apparent wind angles are working accurately
8. We need to ensure that the new navigation system (Expedition) is working accurately especially in terms of tides and laylines
9. Before Cowes week, we should always check that our depth is reading accurately so that Harry can guide us into the shallow areas, when we need to try and escape from the tide
10. We need to remember to always have fun and not to be too harsh on ourselves! We made some silly mistakes this week (particularly the OCS and 1% penalty) but we sailed a good week and we need to remember that if you "Never take risks, you never drink champagne!". We did get to drink champagne at the Morton's house last night, unfortunately it was not due to our results this week! But hopefully next year, we will not make these silly mistakes, we will remember the lessons from Cowes Week 2014 and we will hopefully win in 2015! The Winsome crew are already looking forward to Cowes Week 2015!
And the big question regarding the pink t-shirt…. Boj maintains the honour of wearing the pink t-shirt until Cowes Week in 2015. We wonder will he wear it to the hospital every day or will he only wear when he is sailing on Winsome for the next 12 months?
Thanks to Harry, Leen, Boj, Joost, Joost, Hidde and Floris for an enjoyable Cowes Week 2014. We were also delighted to have Sophie, Sarai, Indy, Christien and the two new arrivals and future Winsome crew members to Cowes this year, Noah (Hidde and Indy's son) and Willem (Joost D. and Christien's son). We also wish the Winsome crew the very best of luck in their next offshore race, which is the Cherbourg race on 5 September 2014. Particular thanks to Harry for a very enjoyable regatta and Laura looks forward to welcoming Harry to Ireland in November 2014, which is the first stop on his 2014 plane journey to North America and Central America.
Laura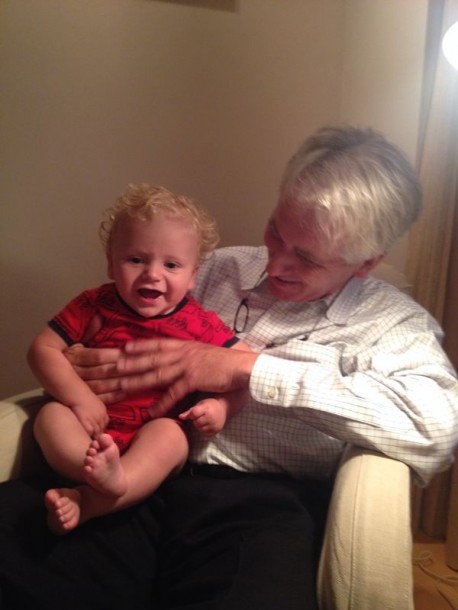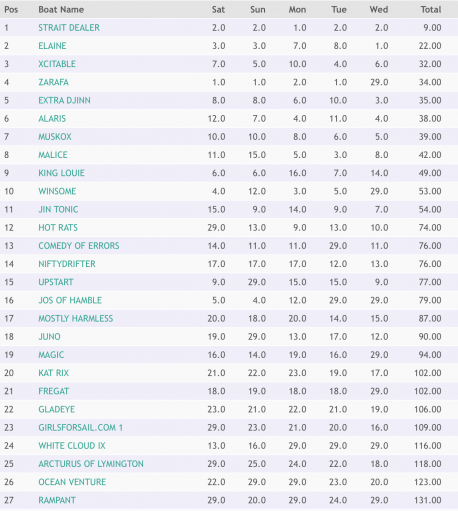 Post by Boj | August 8, 2014 |