2016
November 9, 2015
Dear all,
2016 is coming up and WINSOME is already being prepared. As this post 'goes to press', Harry is on his way to the UK to meet the Old Lady. Leen will be joining him in two days.
Special attention will be paid to the electronics, as we aim to get the B&G system and the Expedition software perfectly tuned.
Some thought has already gone into the 2016 programme. Please consider it a provisional programme and let me know your provisional intentions.
Participation in the 2016 RMYC Rolex Middle Sea Race will be decided upon during the season.
All the best,
Boj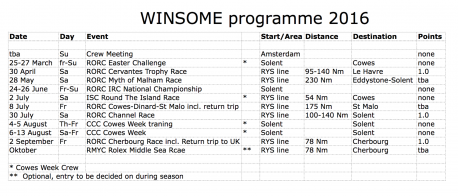 Post by Boj | November 9, 2015 |