Thursday – Back to Winning Ways
August 12, 2016
Today was a much better day for Winsome and thankfully we stuck to our original plan – we started well (although not in front), lead the fleet at the first mark, consolidated, extended our lead throughout the race and won on the water by almost 10 minutes (and by almost 4 minutes on corrected time).
The wind was much better for us today; between 10 to 16 knots. We also liked the long race, which was over 4 hours and particularly, we liked the long beats!
We started down towards the leeward end of the starting line, away from many of the other boats. Given our starting issues on Saturday (black flag disqualification) and yesterday (minor incident with Electron V and the committee boat), we decided to start very conservatively today. This worked well for us and we sailed in clean air and were able to power away from the rest of the fleet. The large (fat) wind shift to the right, on the first beat also helped us a lot! We rounded the first mark in the lead and after that we worked hard, stayed focused and continued to extend our lead. There were lots of spinnaker runs during the race and Floris, Joost N. and Herman did great up the bow getting the spinnaker up and down cleanly and very fast, every time. Harry and Boj picked some excellent lay lines on the upwind legs and Harry navigated us around the strong tide in the Solent excellently. Leen, kept the main trimmed very well, in both the lighter and windier conditions. Laura helmed Winsome around the course well. Both Hidde and Joost D. trimmed the jib and spinnaker great all day and  and we were all delighted to win the race today.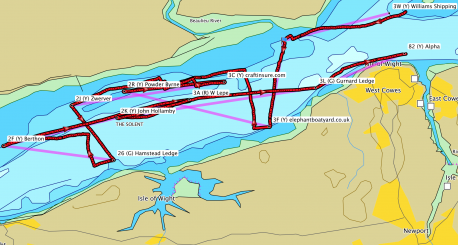 Christien and Sarai arrived today. Christien actually filmed Winsome cross the finish line (almost 10 minutes before the second boat in our class) receiving a well deserved 'gun'.
The Winsome crew is looking forward to another great day tomorrow and hopefully we will be able to achieve a podium finishing position overall for the week. We are currently in 5th position overall but only 4 points behind 2nd overall – so we are hopeful for a good day tomorrow!
Overall results: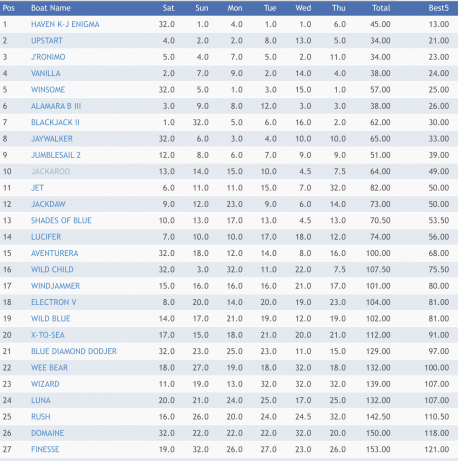 The day finished with a lovely dinner (thank you very much Sophie for organizing all the food and doing all the preparation!) at Winsome's Cottage with the Salvo team (Peter Morton (who previously helmed Winsome) and his crew) and the Yes! team (Adam Gosling and his winning crew).
Tomorrow, we are looking forward to some great racing and the fireworks party tomorrow night!
Joost Dantuma
https://www.winsome.nl/wp-content/uploads/IMG_4077.mp4 6029240 video/mp4
Post by Boj | August 12, 2016 |