1st Day RORC Easter Challenge – Good Friday!
April 15, 2017
Today was Good Friday and also the first day of the RORC Easter Challenge. This was the first day of the 2017 racing season for Winsome and we had a good first day, out on the water. The crew for this regatta is Harry, Leen, Boj, Joost D, Joost H, Herman, John Coffey and Laura. As usual, this regatta is a training regatta, hosted by RORC and supported by North Sails where there is on the water coaching provided. It was great to be back out on the water with all the Winsome crew, after a long winter. The Winsome crew has been practicing over the winter in J70s, dragons and some other boats but it is very nice to all be racing again on Winsome. Thanks to Harry and Leen for preparing Winsome so well for the 2017 sailing season.
We started the day with 2 practice races, which was very helpful to go through the starting sequence and also practice all the basics – starts, tacks, gybes, hoists, drops, mark rounding, laylines, etc.. Today, we had 3 races, which included 2 windward-leeward races and 1 round the cans race. The day started with only 5 knots of winds but gradually increased during the day to 18 knots. The first race was our best race of the day – winning over the water and almost winning on handicap but unfortunately we came 2nd by only 6 seconds.
Race 2 was not so good for Winsome. There was some confusion re whether we were over the starting line in race 2 – the instruments indicated we were over but the bowman (Herman) said we were clear. At the start time, we were behind many other boats, however to be safe, we decided to go back but no other boats did. In the end it appears that none of the boats in front of us were OCS, so we probably did not need to go back but it was good practice and training in any case. And it was good that we stuck to our agreed system and plan, that if the bowman or the instruments indicates that we are over, then we go back to be safe. We caught up and finished 2nd over the water in this race but only 7th on handicap.
The final race of the day was a round the cans race. We started on a reach and initially thought it was too tight for a spinnaker. Then we realized, we could hold a spinnaker, so put it up and enjoyed the extra power. This made a big difference and we were able to get away (although some boats realized before us that they could hold a kite and one of the quarter tonners led around the first mark, with us in 2nd). We gained through the race and won this race over the water and finished 3rd on handicap behind 2 quarter tonners.
It was a very enjoyable day on the way and then we went back to the RORC Corinthian for an informative debrief with Jim Saltonstall, RORC team and the North Sails team. We are looking forward to another great 2 days of racing and hopefully another 3 good races tomorrow! A very good and enjoyable start to the 2017 sailing season for Winsome. Hopefully it will be a great year for Winsome.
Laura Dillon
Results after Day 1: https://www.rorc.org/raceresults/2017/rec-threeos.html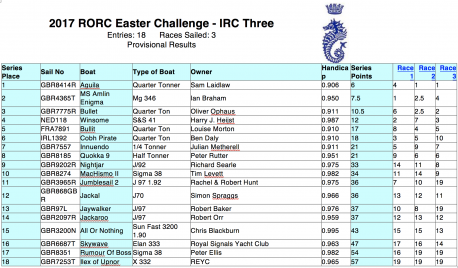 Post by Boj | April 15, 2017 |