Round the Island Race 2017
July 2, 2017
1342 yachts crowded the Solent on the early morning of Saturday, July 1st. Harry, Leen, Laura, Herman, Floris, Boj and Joost H were glad to be out there on Winsome. Winsome was looking particularly smart, sporting her new mast.
The start was on the Squadron Line, a fetch given by a NNW with 10 knots of wind was to bring us to Hurst Castle and we hoisted the kite just before passing the Needles, leaving the Varvassi carefully on our starboard side.
Start
By now the sun came out making life very comfortable on board. We had a beautiful kite ride down to St Catherines were many yachts converged and were the wind picked up to 15 knots. Up to Dunnose point we were able to hold the kite on a reach were we eventually changed back to the jib. Bembridge marks the beginning of the Solent again, the last part of the race to bring us across the finish line and back to Cowes.
to here, the race was quite straight forward, however, now it was going to change. We had a good beat up the Solent, solid navigation and tactical calls brought us into shore all the way into Osborne bay, overtaking many yachts. With the finish in sight, life became difficult for us. The wind dropped to 4-6 knots and our beat against the tide al of a sudden became a battle. With very little wind we had to stay in the shallow waters at Norris to get out of the tide. However, tacking in very light winds is not one of Winsome's qualities….. As Harry thought that we were nearly there, we kissed the bottom at the Shrape.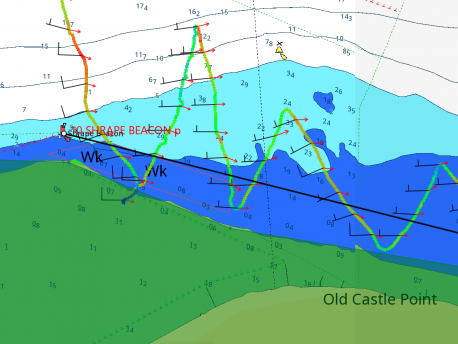 In hindsight that might have costed us two places in our IRC 2C devision. We can assure the crew that is sailing next weekend that the depth instruments are calibrated and functioning.
This last mile of the race is where we lost out on our competitors, but that's sailing. We crossed the line after 50 miles and were 5th in our subdivision (39 boats) and 12th out of 120 boats in IRC 2.
Our track:

Drinks and a debrief followed by a lovely dinner filled the rest of the day. Hard work, sailing.
Congratulations to Adam and his team on Yes! for winning their class and the race overall. An amazing achievement considering all these yachts and qualified sailors on the water. It was a good idea to hold a reception celebrating your victory in Pier View Saturday evening. Should do that more often….
We will be back next weekend for an off shore, more blogs to follow!
Joost H.
Post by Boj | July 2, 2017 |