RORC Channel Race 2018 – "Stick to the plan"
July 29, 2018
After a few very warm days in Western Europe, Winsome's crew met on Friday the 27th of July for the RORC Channel Race: Harry, Leen, Boj, Caroline, Dirk-Jan, Ed, Frits and Lennard.
Boj and Lennard arrived late on Friday afternoon, while the others who arrived earlier had prepared Winsome in the afternoon. We had a nice team dinner at the RORC and concluded the evening at Winsome's Cottage with Boj briefing us on the expected route. On Thursday Boj had already advised us not to bring our swimming shorts; I think we all agree in hindsight. The forecast included two cold fronts passing the English Channel, resulting in southwesterly winds blowing 20-35 knots.
Anticipating on the strong winds, the race committee decided to send us East instead of West. The course would be a downwind start to Horse Sand Fort, a tight reach to South Pullar, and a long run towards our final turning point: the Royal Sovereign Tower near Beachy Head. Then a long beat back to Outer Nab and finish at Mother Bank in the Solent. Total distance approximately 135 Nm, with most of the time the tide against us.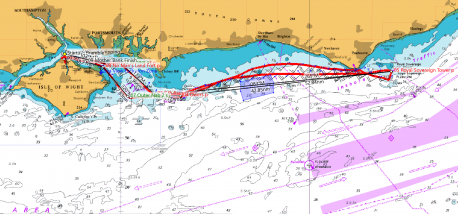 We started in IRC Class 4 with fellow known competitors such as Foggy Dew, Cora and Bigfoot. Our start at 10:00 UTC was safely executed; a bit closer to the RYS than we had anticipated. However, still one of the first boats across the line. We hoisted our Spinnaker 3 and headed off with a solid 9-10 kts boat speed. The gusts of 28+ knots were well called by Caroline, resulting in good downwind speed and no spectacular broaches. Most of the other boats around us were not flying kites, so Winsome managed to keep up with her younger competitors.
On our approach to Horse Sand Fort the waves had increased so we switched to the Genoa 3. What followed was a very wet close reach towards South Pullar. An old adage applies here; "when you think about reefing, do it. When you think about unreefing, first have a cup of tea". Of course Boj instructed us to reef in time on this tight reach and served a cup of tea when it suited him best (after bearing away). Find here a short video that Ed made on this reach.
Having left Owers to port we started our downwind towards Royal Sovereign Tower, with one significant area blocking our way; the newly built Rampion Offshore Wind Farm. As we were relatively new to these innovative objects, there were two questions to answer; 1) what are the exact coordinates and 2) should we pass the area to the North or to the South? Answering 1 proved to be a challenge but was answered with the help of the internet and the race committee. Boj's planned answer to question 2 was to go North of the farm, for the sake of less current against us. We sticked to this plan and headed to the NE part of the farm. We did this by "goose-winging" our Genoa 3, having sorted out the best way to do this (see attached video). This resulted in some spectacular surfing conditions with 30 kts of wind and boat speeds over 13 kts. Boj called this our "micro-ARC".
It turned out that only two other boats in the entire fleet had chosen our strategy, and none of the boats in our class. Our goose-winging trimming payed off well as we gained again on the boats Foggy Dew and Cora.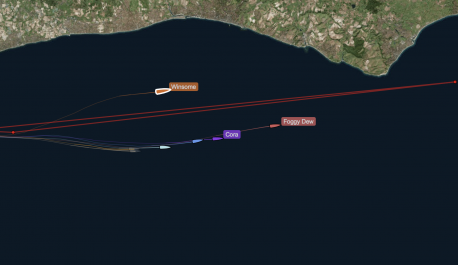 When we passed the wind farm we were impressed by the Vroon support vessel "NPI Resolution" standing on 6 posts, approximately 10 metres above sea level. We also had a discussion on the wind disturbance caused by the wind farm. This last aspect was actually not as significant as we had expected.
On the final approach to the Tower we ate the freshly baked lasagna. As forecasted, the wind dropped to 20 kts so we concluded the long run with the Spinnaker 3. This was just enough for Leen to become speed record holder (13,5 kts). We rounded the Royal Sovereign Tower at 0607 pm UTC.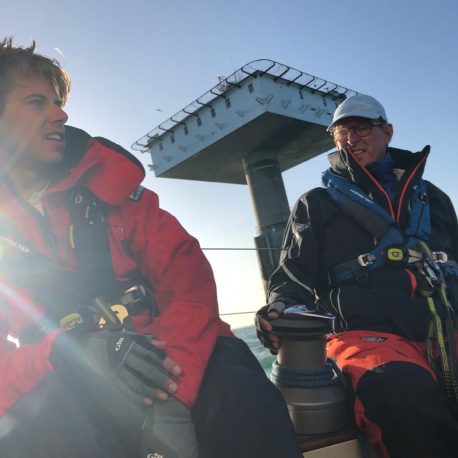 We prepared for a 50 Nm beat with a TWD [True Wind Direction] of 245 and a forecasted shift to the left.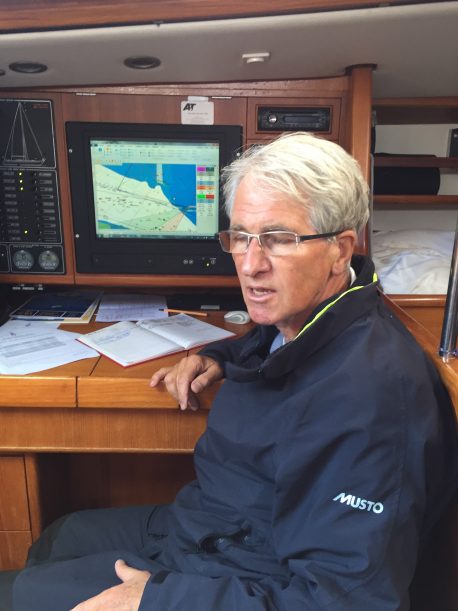 After 30 minutes the tide turned against us, exactly as expected. This made us decide to hug the shoreline of Beachy Head, with 6 tacks in one hour. Not the best sleeping conditions, but we did make significant gains on our close competitors Fireball, All or Nothing and Thunder 2. After our sixth tack the wind slowly started to turn left, again according to plan.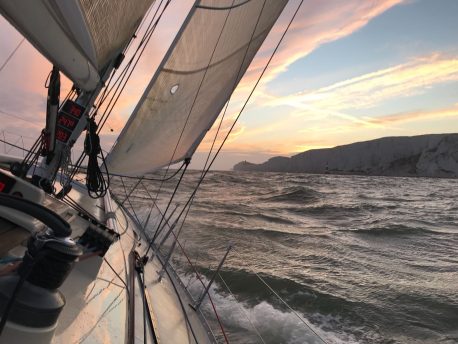 With a TWD of 230 and TWS of 18-20 kts we had a cup of tea and unreefed the main. Next up was a long port tack of 40 Nm towards Outer Nab 1, again passing the wind farm to the north. As the night progressed the wind shifted further towards a TWD of 195, increasing in strength to 25 kts on our approach to Nab. We reefed the main again and were pleased with our Speed over Ground of  10 knots, finally enjoying some current flowing in the same direction.
We finished at Mother Bank at 04:52 UTC, 8 minutes earlier than Boj had forecasted. The only thing that didn't go according to plan during this race was the rain; it only started raining just before the finish.
Concluding my first Winsome blog I think we can look back at a good race, and with a 3rd place also a good result. Thank you Harry, Leen, Boj, Caroline, Ed, Dirk-Jan and Frits for a very enjoyable trip. We had a good plan, and we sticked to it perfectly. This all was celebrated with a nice lunch at the Squadron's Pavilion.
Next up: Cowes Week! Good luck with hopefully prolonging this series of podium finishes!
Lennard
Encore:
https://www.winsome.nl/wp-content/uploads/film2.mov 8224407 video/quicktime, https://www.winsome.nl/wp-content/uploads/WhatsApp-Video-2018-07-29-at-08.47.50.mp4 3485511 video/mp4, https://www.winsome.nl/wp-content/uploads/Channel2018_2.mov 9275341 video/quicktime
Post by Boj | July 29, 2018 |