Windy Wednesday – Winsome takes second place
August 9, 2018
After yesterday's excellent race, spirits onboard were high despite the grey overcast skies. We were scheduled to start from the Black Group Committee Vessel which was anchored in the Western solent, not far from the "Dick Johnson" racing mark.
Wind was around 14-17 knots from the W/WSW at the start with a tide running to the West. We started halfway down the line trying to balance the right side bias of starting line with the advantage of being left to get into more favourable tide sooner. Our start was well executed with appr. 0.9 boat lengths below the line at the gun.
During the first beat we worked the deep water to stay in maximum tide. This worked well and we rounded the first mark just behind Xcitable and in front of Musk Ox, both well-sailed X-362S's. Downwind we did the reverse of the upwind and tried staying close to the North shore in as little adverse tide as possible. Meanwhile, the breeze picked up and we switched from our big 150% no. 1 Genoa to our 130% no. 2 Genoa.
The second windward leg was more of the same and we kept in a continuous battle with Xcitable and Musk Ox for the lead. The downwind legs got more exciting as the breeze reached 25-27 knots in the gusts and our speeds were regularly above 10 knots. We however kept the boat well under control by excellent helming from Laura and hard work by Herman, Dirk-Jan and yours truly to keep the Spinnaker full. Despite our hard work we were unable to fully keep up with Xcitable and Musk Ox and both just finished in front of us. On corrected time we beat Musk Ox but Xcitable beat us by two seconds, showing how close the racing has been. Our other main opponent Swuzzlebubble came in fourth.
Today's track.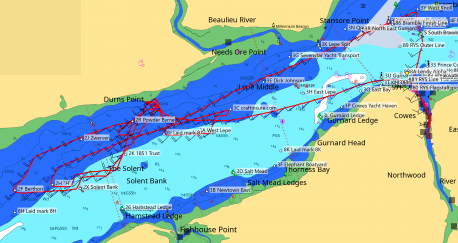 After today's race we are in second place, followed closely by Xcitable. We will give it our very best the coming two days to catch up with Swuzzlebubble and keep Xcitable behind us in the overall standings.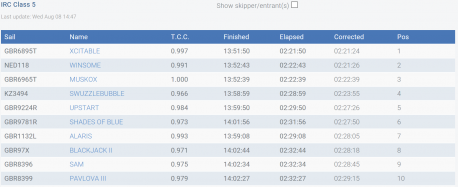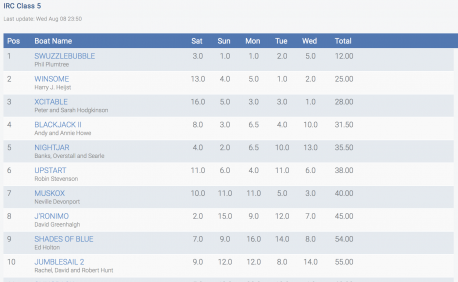 Joost Dantuma
Afterwards Harry collected our trophy for our class win on tuesday and Laura collected her trophy for winning Lendy Cowes Week Ladies day 2018 (which she should also have won in 2017, but Boj forgot to tick the box… sorry Laura!) congrats!
Post by Boj | August 9, 2018 |