Cowes Week 2019 – Day 3
August 12, 2019
Today the day was a bit different compared to the last days. Yesterday was dry and not short of wind, today was wet and short of wind …. After preparing Winsome and picking up our crew, we motored out to our starting area. Liquid sun shine was predominately giving us no wind under the clouds, the Solent was grey, filled with yachts all anxious to start. Starting was not very simple as the wind was all over the place; the starting line sometimes looked like an upwind-downwind race course for a J/22 as the wind would shift under the clouds for 90 degrees to turn back after 10 minutes. Eventually all Classes started and expectations were high. Floris battled logistical problems coming to Cowes, relieving Herman of his foredeck duties. However Herman stepped up to the plate on Sunday and making no mistakes on the foredeck playing a major role in our second place. So if Floris could not deliver…
A busy start brought us to the left side of the course and a beat to the racing mark, we were first to round so that was nice and the start of a long downwind leg. We not only had to navigate our own yacht, boat to boat and boat to field tactics but also anticipate on two big Car Carriers going through the Solent. Jet passed us initially, but we were able to catch up and once again pass the downwind laid mark first of our fleet. Happy as we were we started again with a beat however wind left us and looking at 3 knots of wind we were struggling. The wind varied during the race in direction between 180 to 340 degrees and in strength between 2 to 14 knots. Nail biting conditions. After the wind picked up we again rounded the race mark, now reaching back, East on the Solent. Then up to the last beat back up towards Cowes, tacking up against the tide at Norris's and in front of the Medina to the finish. Difficult conditions for us as close tacking against the tide is not Winsome's strength. JPK Elaine was able to close the gap, however, the finish was close enough to make us pass the line first in our Class on the water, exhilarating for all of us.
Winning on the water gives us a convincing win on handicap, Elaine behind us and Jet third. With a second yesterday and a win today, we have a good start to Cowes Week 2019. Still a lot more racing to do the coming days. Oh, and Floris is allowed to stay, we're not trading him in for Herman, yet …
Thanks for all the support from all our followers.
On behalf of the Winsome crew,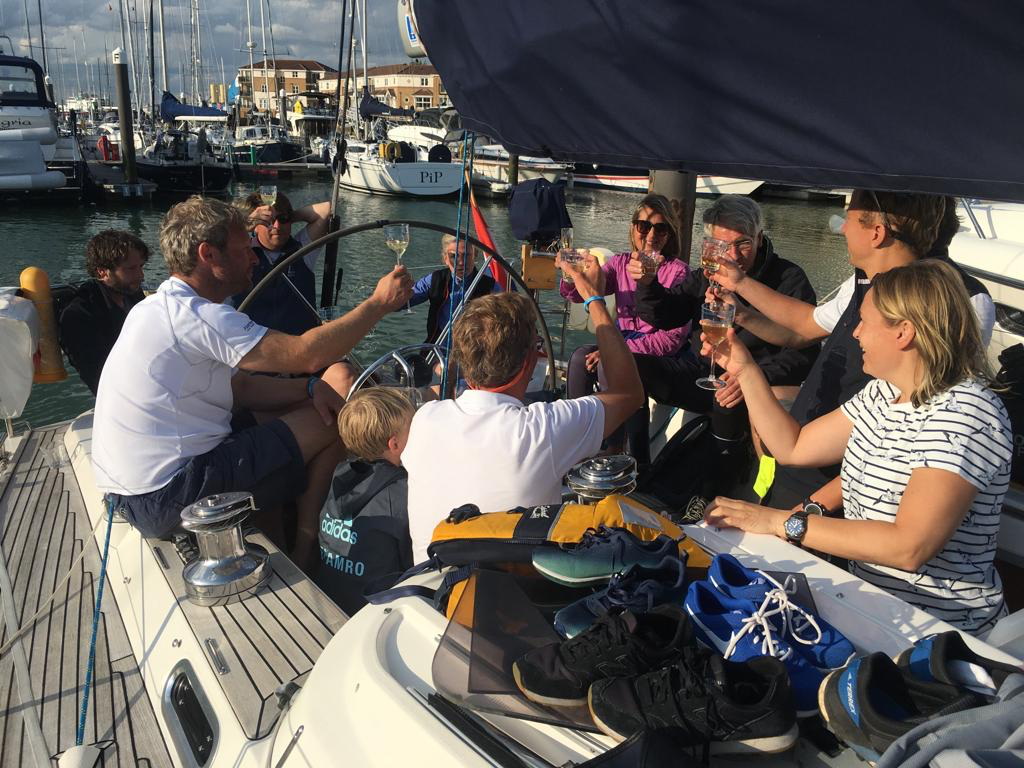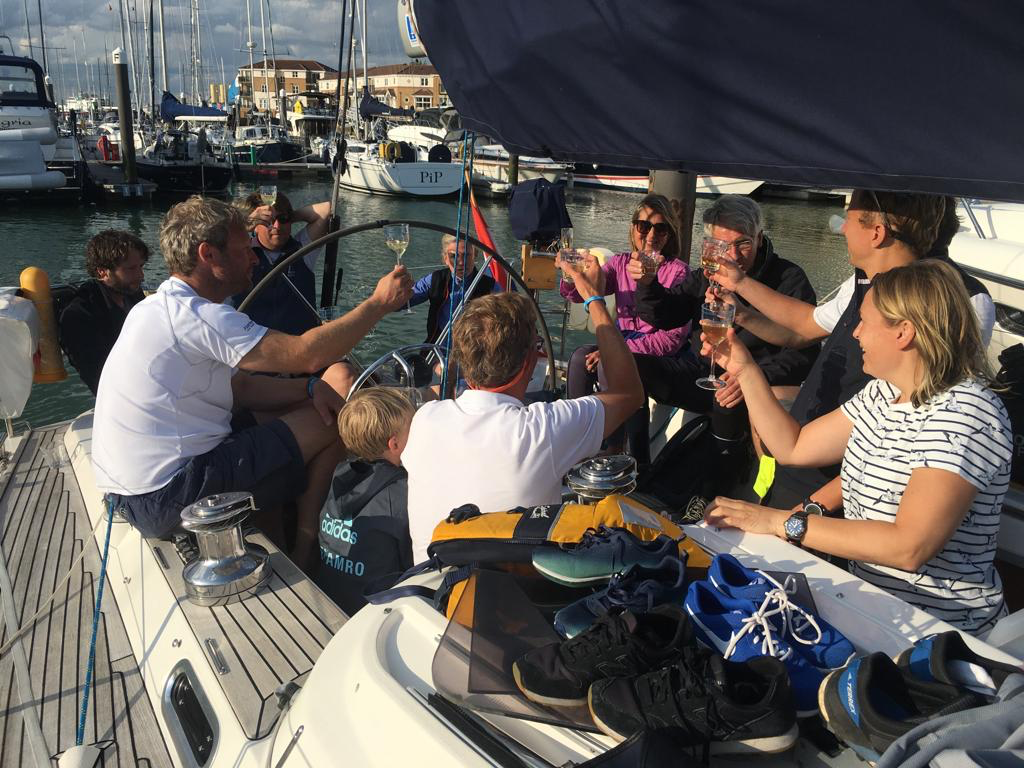 Joost H.
Post by Boj | August 12, 2019 |