Cowes Week – Day 5 , Wednesday 14th August 2019
August 14, 2019
We started this 4th day of racing at Cowes Week as overall leader in our class and very anxious to defend or maybe even extend our lead, although we have strong competitors. We succeeded in this in a , what proved to be,  quite exciting race.
We sailed out of the Medina river to the Solent in 7 knts of wind  into a thick "Irish Mist". The weather forecast promised lots of rain and wind up to 28 knts in gusts.
During the starting procedure of Class 4 before us and also our start the wind shifted quite a bit, resulting in a very favourable pin end of the line. When we choose our position there, suddenly we saw that the pin end orange inflatable buoy was still in its original postion but was replaced by a new yellow and black pin end buoy much lower. We speeded to that buoy from the outside of this new buoy to be just in time for the gun. But we were on port tack (!) with the rest of the fleet coming towards us on starboard tack! We managed to pass just before all of them!  
We reached the first mark without having to tack at all in 1 st place. The next few down wind at upwind legs we were able to defend our 1st postion. In the mean time we had to change from Genua 1 to genua 2 and from spinnaker 1 to 2 to 3 because the wind became stronger and stronger as predicted. The second to last downwind leg we could not hoist the spinnaker because there was to much wind for the close wind angle we had to sail. This costed us quite a bit and the competition closed in. Towards the last  upwind mark the wind really picked up and we had a lot of tide from behind pushing the fleet up. We sailed a perfect layline and rounded 1st,  but a the boat that had just overtaken us passed this mark at the same time from the opposite site! Good for us: they were wrong and we could continue. 
After much consideration we decided we should be able to fly the spinnaker although the wind was 23 kts + and a close wind angle. We managed, but suddenly the next mark was very close but to high to the wind for us to round it with the kite up. Getting the kite down took us a little too long unfortunately and we passed the mark on the wrong side…… we had to hoist the genua 2 and tack back to the mark. This costed us a qiute a bit, but as always our motto is "Never give up and keep pushing"! Therefore we decided to hoist the kite again after the mark although most boats did not dare to this. Even after rounding the last mark and having to sail towards the finishline at a even closer wind angle, we managed (as one of just a few boats) to fly the spinnaker. We gained a lot with this! All and all fantastic work of everybody of the crew and great teamwork in supporting each other in these sometimes exciting and confusing situations. Result was another very satisfying 2nd place.   Our lead towards the overall number 2 "Elaine Again"  extended to 5 points, because they  became 5th today. Two more days to go with 2-1-2-2 on our belt.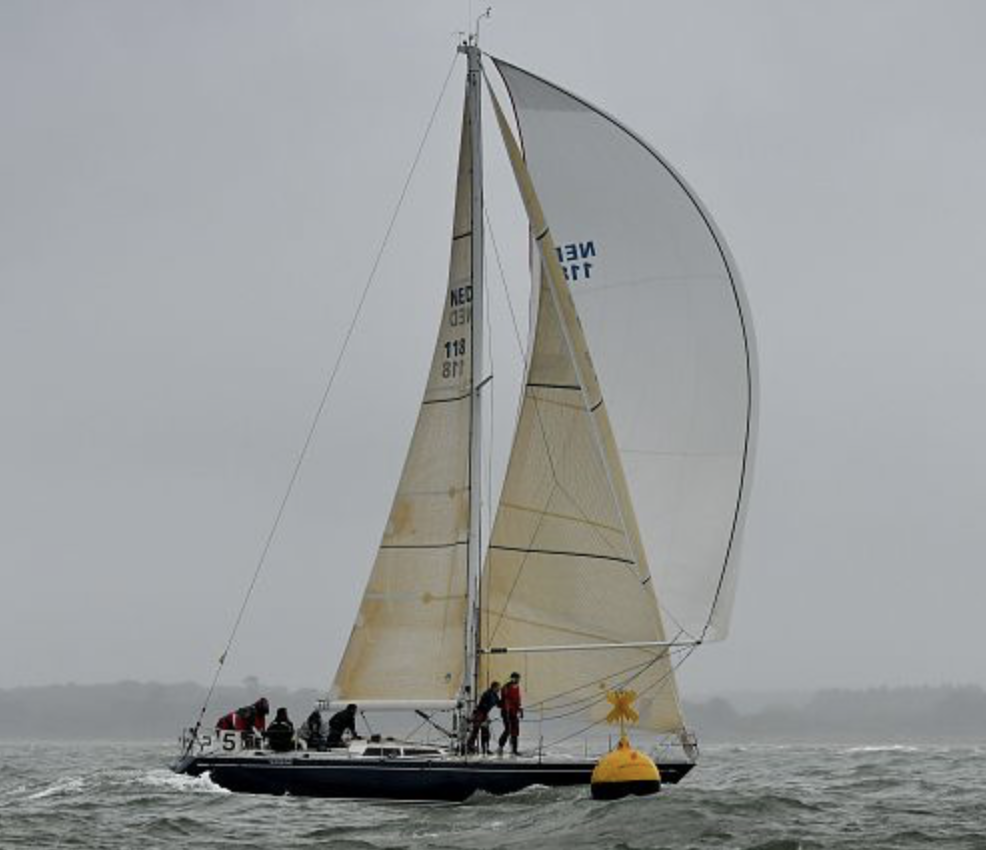 (Picture by Paul Wyeth)
Post by Boj | August 14, 2019 |