Cowes Week 2022, Race 4
August 3, 2022
Ladies day!
For many years now, Cowes Week is running a special ladies day event. An event to promote ladies beging more involved in our wonderful sport at alle levels.
A few years ago, in 2017 we had won our rather large class that day and Laura had been wearing the silly and now discontinued blue and white striped shirt for that day, so talk of the town was that we were going to win it. Unfortunately our administrative department (a.k.a me) had forgotten to enter us for ladies day. Therefore we -or better said Laura- was not entitled to the mermaid prize. A mistake I am often reminded on and, have never made since. Fortunately we -or better said Laura- won the trophy in 2018.
Yesterday we did it agian! We -or better said Laura- came second in our class, but that turned out to be good enough to win the ladies day Trophy again; well done Laura. So we had drinks and a nice ceremony at the RORC. While at the same time, North Sails had organised a remembrance get together for Sam Richmond, a young pro sailor who unfortunately passed away after a racing accident at Antiqua Race Week this year. Keeps us reminded of how dangerous sailing can be and how fortunate we are to sail, race and enjoy ourselves.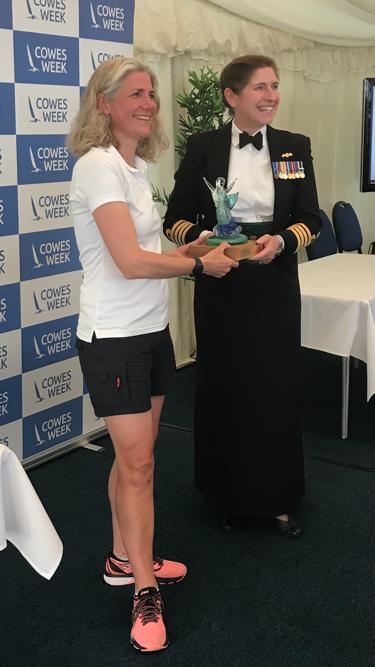 I guess, we just happen to have a really good helm, a well deserved prize Laura, congrats.
Yesterday the racing itself was very exciting. We were starting of a CV line in the Eastern Solent. On the G2, Laura gave us a great start. It took us some time to get up to speed, with the Genoa halyard turning out to be the main key to the throttle. We started in front of Cobra, but she overtook us on the right of the upwind. When we found our little mishap, we started sailing faster and higher again, so we immediately to our place at the front of the fleet back and started extending in the hope that it would be good enough. The kite ride down was uneventful, but we changes the G2 for the G1. That gave us an edge on the reach to the island. Beating up on the island side on the G1 was just on the edge, but in general we gained. A small -calculated in- overstand of the mark costed us a bit. The next downwind on kite 2 had some of our opponents whipe out. We stayed safe, but our (last) downwind markrounding got messy. Pole on the sheet, an emergency drop and now the Genoa sheet around the pole. Upwind in 20kts, ….. not the best drop, but we managed to sort the mess out quickly and were of on a fetch to Bramble and then a short beat to the finish. WHOOPER said in hindsight that they had only beaten us because the long leg was very fortunate for them. They came 1st on corrected time and WINSOME was second. COBRA 3rd. If we want to beat these boats, we have to be on our toes again for the last three days! Well done to the WHOOPER team.
If you would like to watch the start of our first day at Cowes Week 2022, have a look:
Just now the weather and strategy report was send out (WhatsAp) and we are ready for another day of Solent sailing.
We are fully prepared! Check the picture below; which Sherlock knows what has been done to WINSOME this morning?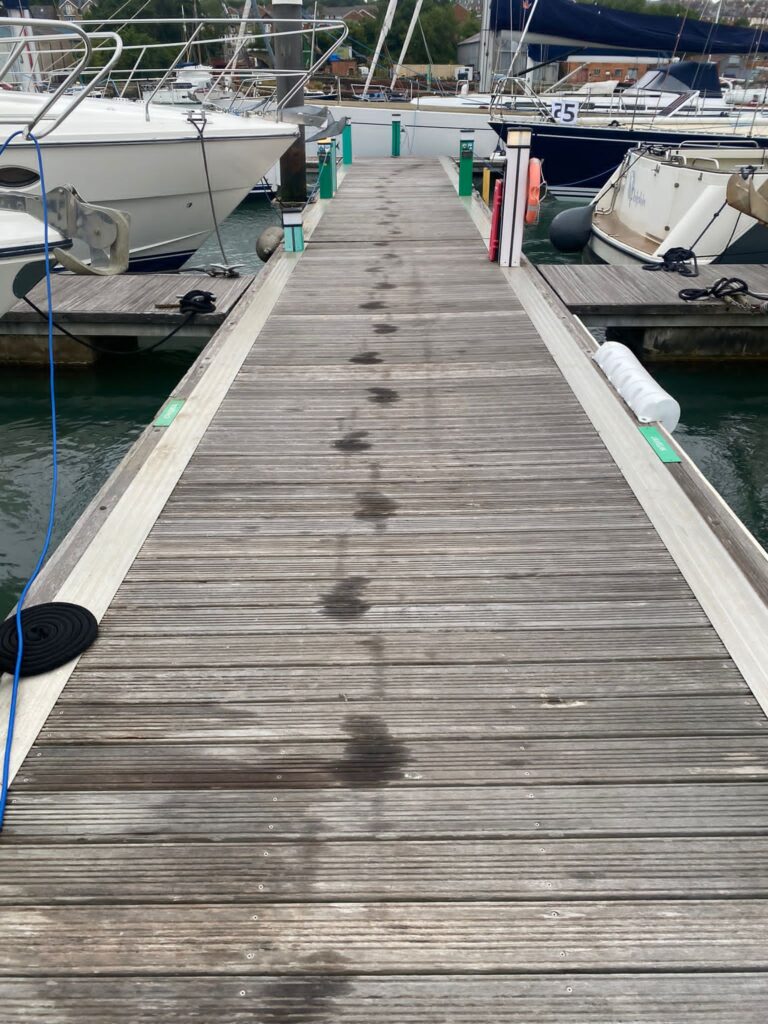 Yes, you are right, divers cleaned the hull. All good for another day of racing!
Cheers,
Boj
Post by Boj | August 3, 2022 |