Cowes Week 2023 – Day 4, Tuesday 1st August
August 1, 2023
Today is Tuesday, August 1st: a new day, a new month so new chances of winning! And that especially on Ladies Day with Laura on the helm.
The forecast was again quite windy; SW 17-25 knots with the tide against the wind during the whole race. Spirits were high and competitive onboard as the sun was out! A rare event these days. We were ready to take on the fleet and convert line honors into our first win.
For a change we did not start at the Squadron but at a Committee Boat line near the Bramble Bank. On the G2, Laura showed our class how it's done and gave us a great start at the pin-end. This gave us an early advantage to execute our plan. A 3 Nm beat followed where we were at the edge of the new G2 in 20-25 knots. We made sure we used the tide in our advantage, sailed fast and at the first windward mark we had a good lead. However, the difficult part in these conditions is downwind sailing with the strong current against the wind. This means the same distance downwind takes long and our competitors in smaller, planing boats have more time to play catch up.
After a kite ride down we had a short reach with the G2 on an outboard sheet towards Gurnard Ledge, followed by a beat closer to the island shore. Next up another starboard rounding and a kite ride down. It was difficult to extend our lead and especially Frank-3 remained (too) close. The tide was now really strong at >3 knots. The next downwind mark was again a starboard rounding so we had to gybe around it. We decided shortly before the mark to fly the kite without the pole before taking it down. It went well, but it also resulted in a slightly messy mark rounding where we lost one spinnaker sheet completely.
We managed to sort it out quickly and continued on the final beat. A kite run to the finish at the Squadron followed. This became quite eventful with big boats like Gladiator passing us closely. The smaller boats in our class also came closer, some flying 16 knots downwind, and we had to defend line honors. We used everything in our repertoire to stay ahead; we put Ruby up, hugged the shore and eventually made a great "peel" from the Spinnaker 3 to the Spinnaker 2 (well done team!). Despite this both Betty and J'ronimo catched us just before the RYS finish line as the wind dropped close to the island. But we trimmed very well, managed to keep our kite filled and got ahead again.
We took line honors as can be seen in the video, but with a very small lead. The result is a rather disappointing 5th place (3rd overall) after DSQ of Betty. While we did think we sailed a good race without too many mistakes and good boat handling.
Tomorrow no sailing as a low pressure will bring winds up to 40knots. Thus, time to reflect and focus on Thursday and Friday, promising to become two days with a favorable forecast for us with a little less wind.
Thanks again Harry and the Winsome team for a great day out on the Solent. Let's make Thursday and Friday two days to be proud of!
Lennard Pigeaud
And some pictures of WINSOME finishing before PINTIA (Blue) and J'ronimo (White)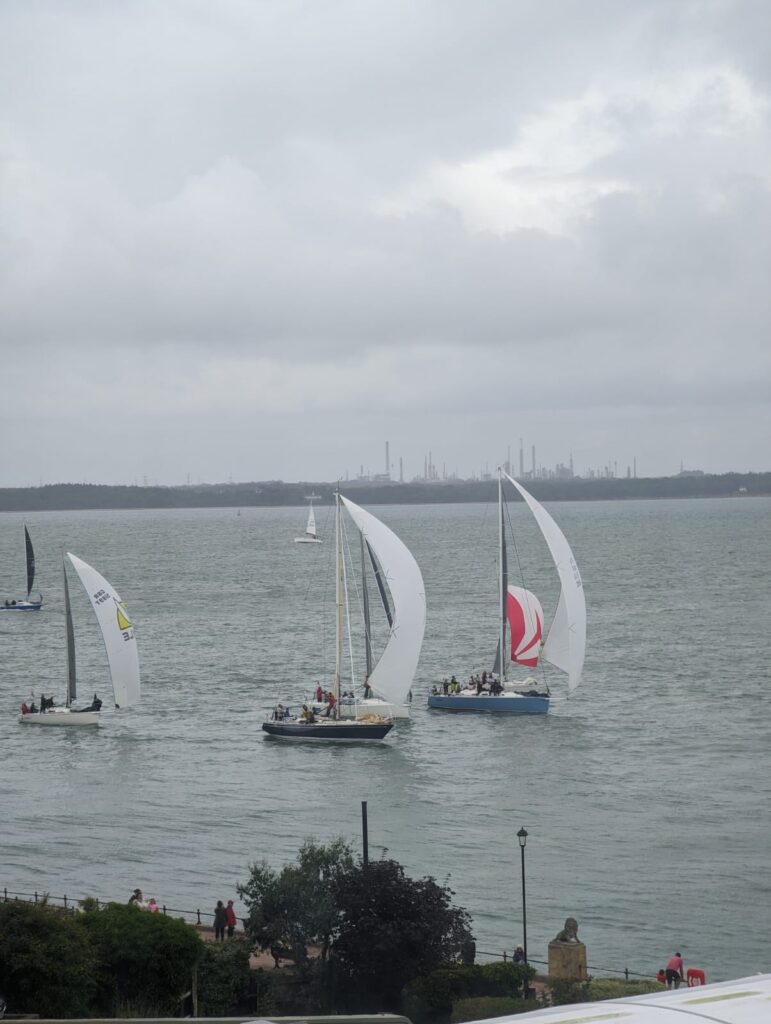 Post by Boj | August 1, 2023 |