22 November 19th leg VYYY-VECC (Kolkata) fuel and 20th leg VECC-VIJP (Jaipur) 1.171 Nm
November 27, 2017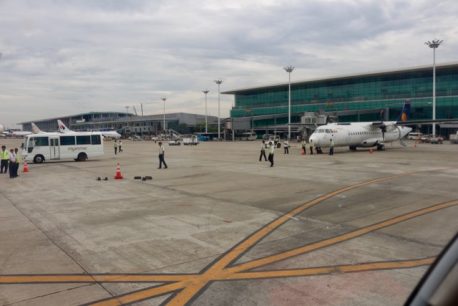 ready for taxi in Yangon….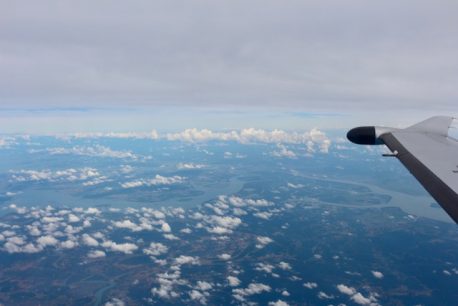 half way from Yangon – Kolkata we left the bad weather behind us……
In spite of the fact that we solemnly promised each other never ever ever to make another call at Kolkata, we had to do it as a result of a misunderstanding with our dispatcher. We failed to inform him of our non-Kolkata-decision after our previous disaster which I called earlier in this blog our black day.
So we needed to make a landing in Kolkata to take fuel. Of course we hoped it would not become another disaster. Well our hopes were slashed right away. The fuel-release could not be found, the customs did not accept our multiple-entry-visa etc. So they decided to issue for us a temporary landing permit, no matter what we argued. Moreover each and every Custom Officer has his own authority, making his own decision often contrary to the one just made by the previous Custom Officer.
Our agent remembered of course our black day very well and did everything they could to avoid a repetition, but the Customs had pleasure to show their muscles on every occasion again. Finally the issued a temporary landing permit for only 72 which would mean that Urs would have to stay behind in Jaipur since he used his entries already. Ha ha, we shifted that problem to Jaipur.
After filling out our papers for say three hours we could go and proceed to the a/c via a small custom door, but the Custom Officer at that door did not let us go through, no matter what our Agents said. They needed to get another authorization which took again 30 minutes.
Well I stop this lamento since I start feeling ill again, just by writing this blog. For us no more Kolkata, for Urs no more India at all.
I often thought of the WijnneBarends vessels now under construction in or near Goa. They may never be finished in this complete chaotic bureaucracy, where everything takes at least five times longer than necessary.
We took off, landed in the dark in Jaipur and felt completely exhausted.
Ps the delay of this blog was created by the fact that the entire webpage was blocked by the authorities in Dubai. Later more about that.