WINSOME in Medemblik
April 13, 2008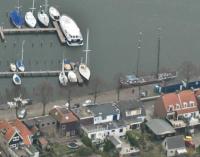 Last week Jongkind worked on the boat and will continue this week. The radardome and screen have been taken out of the boat for repairs/check and will hopefully be replaced/remounted next week.
Webasto, Alida (watermaker), navigation lights, lamps on motorpanel: all this is checked and working. Flares are on board. New headsails I and II are nearly finished but may be used only after the delivery to UK.
I hope also that the new B&G instruments [H3000] will arrive in time for installation next week i.e. prior to the Y-Toren Race and consequently prior to the Vuurschepen Race and RORC North Sea Race.