Cowes-Dinard-St Malo Race
July 21, 2008
11-12 July 2008For several years the Cowes-Dinard-St Malo Race is part of the racing program of Winsome, this year the crew consisted of Harry, Wout, Marjolein, Nicolaas, Edgar, Frank and undersigned. After a perfectly timed journey from Amsterdam to Cowes we met up in Peer View with most of the crew for a beer and to discuss the weather and tactics. The next morning saw a fresh breeze and crisp conditions for what proved to be a short beat to France. We had a reasonably good start with free breeze and were able to keep our lane for the first few minutes. The beat out of the Solent went well and saw us keeping up with the yachts that should easily outpace Winsome (at least according to their rating).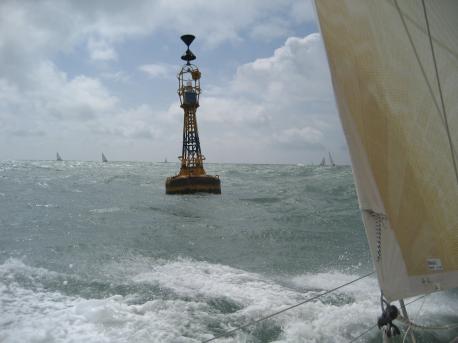 As we sailed out of the Solent the sea became a lot bumpier and keeping speed and height became more difficult. We decided to tack out to sea along with roughly a third of the fleet. The rationale behind this decision was not to go too far to the West as we were expecting a shift from Southwest to West-South-West. Out on the sea the first watch started after Nicolaas prepared some great roasted salami sandwiches. During this first watch we tacked several times to gain some height because the current was pushing us in an easterly direction. Unfortunately (although saying this with the benefit of hindsight) it turned out not to be best decision to gain height out at see, instead of under the English coast. After the tide began to turn round six o'clock we were able to crack the sheets a bit and gain some extra speed. This made quite a difference as our speed-through-the-water increased from just below six knots to over seven knots. During the night the wind veered further and round three o'clock we were able to hoist the kite and set the daisy.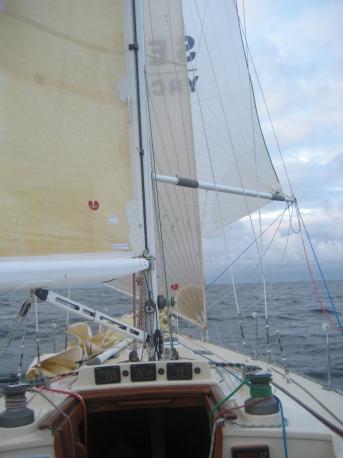 After some six more hours of sailing under spinnaker we finished after little under 25 hours at sea. St Malo proved to be happy with our visit as the sun broke through during the morning and after some nautical housekeeping we headed off to check the scenery, eat some moules-frites and catch-up some sleep. Saturday evening we had a really nice dinner in A la duchesse Anne with the whole crew and Robbie Jones who came over for the return trip. Sunday was the prize-giving in which there, unfortunately, was no prize for us as we only came in on the eighth place in our class and twenty-eighth overall. All-in-all it still was a very enjoyable trip, moreover we learnt that 'West doesn't always proves to be best.' Harry, on behalf of the whole crew, thank you for yet again a great weekend of racing on the old lady!