RORC Channel Race 2008
July 29, 2008
Winsome wins IRC class 2 at RORC Channel Race 2008
During last weekends RORC Channel Race Winsome achieved an excellent result by winning IRC 2 and coming in second overall. The crew for this race consisted of Harry Heijst, Wout van Everdingen, Marjolein de Ru, Robbie Jones, Arnout Leemhuis, Stijn de Ruijter, Joost Heikens and Joost Dantuma. The weather was very challenging because of the light, fluky breeze that sometimes decreased to as little as 1 knot.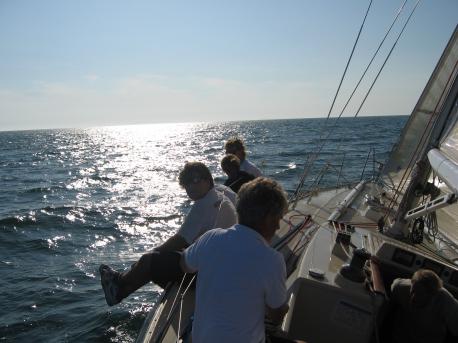 The race started with a downstream beat in Westerly direction towards Lymington bank, especially the last part of the beat was very difficult because the tide had turned. Fortunately we were able to round the mark as second in our class and began the long run to Owers Buoy via Hempstead Ledge, Prince Consort and Horse Sand Fort. By staying focused on pressure in the kite, boat speed and keeping in the strongest current we did good on the run. Out at sea the breeze increased and shifted so that the run became a reach, dear Daisy helped us keeping in front of most boats in our own class and to keep up with the boats from IRC 1.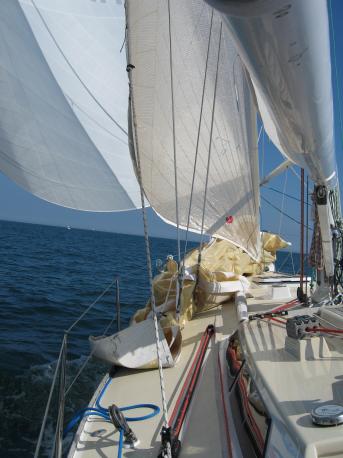 After rounding the Owers buoy the wind increased further to 14-17 knots and we had a nice beat out towards the RORC buoy South of Wight. Round midnight we turned our bow again and hoisted the kite, the sky was clear and full of stars. During the night wind dropped again to 0 knots, unfortunately this Doldrum-like situation did not last very long and when the breeze picked up again we had a tight reach towards the Eastern entrance of the Solent. In the early morning we entered the Solent again and finished together with some four other boats within 5 minutes of each other. On rating we won our class with a 26 minute lead to second placed Psipsina. Overall we came in second four minutes behind Astarte. After a little sleep we celebrated our victory that afternoon on the sunny terrace of the Island Sailing Club. This race proved again that Winsome can cope with lighter conditions. Next race on the program is Cowes Week during which Winsome and crew will hopefully repeat the good results of 2006.