A journey of thousand miles starts with a single step [Lao Zhou]
September 16, 2008
Free translation: a journey of 10.000 miles starts with an awfull lot of work.
Thanks to the crew, delivery WINSOME to Breskens, thanks to Theun Hoogmoed helping us to get the mast down and give proper instructions to wrap/package the mast, thanks to Boj helping me to motor WINSOME from Breskens to Antwerp Willemdok, thanks to Wouter picking us up at 0200 Friday morning, thanks to Robbie helping me to shift Winsome from Willemdok, thanks to the crew of PINTA-M, thanks to Sevenstar and to Spliethoff and thanks to many others WINSOME is now on board of mv SAMPOGRACHT.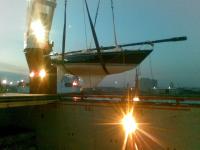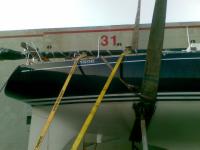 We are now ready to go and as Boj wrote in his e-mail, the confirmed crew can now book their tickets.
PINTA-M was loaded shortly after WINSOME, but is stowed on deck with her mast upright.