WINSOME at sea in the hold of mv SAMPOGRACHT
November 5, 2008
Amsterdam, Wednesday 5th November 2008
mv Sampogracht – UPDATE (Brisbane)
Good Morning Gentlemen,
The Sampogracht is currently providing an ETA at Brisbane of 15th November 2008, AGW/WP
Atse, if you would provide details of travel history for Pinta-M then all paperwork will be received for customs clearance.
Should you have any questions or requests please let me know.
Best regards,
This was Sevenstar's message of today so she is well on schedule. It is been decided that WINSOME will be taken from board in Brisbane and not being transhipped unto another Carrier to Pt Kembla mainly because Pt Kembla appears to be entirely unsuitable to receive or handle a sailingyacht.
Wouter van Everdingen, Theun Hoogmoed and René Hoogmoed are planning to fly to Brisbane via Kuala Lumpur with an arrival at Brisbane of 24 November in order to prepare WINSOME for her first Australian seavoyage from Brisbane to Sydney NSW. I will follow 3 days later and as soon as she is ready for the voyage we will sail her, the four of us, with some stops en route to Sydney NSW. Here further preparations under the control and direction of Robert Jones are planned.
Robert Jones and Marjolein de Ru are expected to arrive in Sydney NSW on 15 December to complete all preparations on WINSOME for the race so may expect that she will be fully ready by the weekend of 20-21 December, the weekend when most of the crew will arrive in Sydney NSW.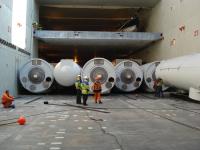 Berthon Boat Yard has published something about our trip and so did S&S Association. See below Berthon's message without photograph.
WINSOME
Originally built by
Berthon in 1972,
Winsome had her annual
pit stop at Berthon after
the Channel Race (in
which she won her class,
2nd overall) before
Cowes Week at which
she was second in class,
and then won the
Cherbourg Race overall.
She is now on a
Sevenstar ship to
Australia for the Sydney-
Hobart. Good luck.
See this review of the Windy 37 in your copy
of MBM or contact us for your copy of the
article. windy@berthon.co.uk
Windy 37 gets the Motorboats
Monthly thumbs up