Getting started again after an absence of 260 days from Europe
July 1, 2009
Winsome is nearly ready to be sailed to the Isle of Wight. That trip will start Friday 3rd of July with the intention to arrive in East Cowes Marina on Sunday 5th of July. Boj, Francois, Joost, Floris Oud and myself will be crewing her.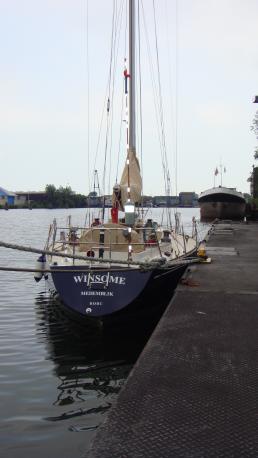 We expect light wind to start with, possibly some thunder in the beginning. The wind will change from East to West in the course of Friday so we do not expect being able to use any spinaker. We will carry the maximum quantity of dieseloil to be sure we will reach Isle of Wight in time for most of the crew to catch the late Sunday flight from Southampton.
Winsome has been well repaired and painted under supervision of René Hoogmoed whilst Theun and Leen have given mental support. Theun made himself some improvements to the rudder. Jongkind has performed all electrical jobs, has serviced the watermaker etc etc.
Next report may follow from the water, if at least the new Iridium antenna will arrive in time.