Winsome's first race in 2009 to St Malo
July 14, 2009
Finally finally finally, Winsome presented herself at the start of Cowes-Dinard (St Malo) on Friday 10th of July.
On board Theun and Leen Hoogmoed, Joost and Jasper Heikens, Carien Dantuma, Boj Mirck and myself. We had a good start though we needed to make a gybe to get out of a difficult situation with boats who feared to get over the line very close to the RYS, but once we were on the way Theun steered the boat in his usual way well out of the Solent. Good tacks, good calls, well everything went fine and we made good advantages on the other IRC2 boats.
It took quite some trouble to get Winsome in IRC2 Class. For some reason Winsome was listed with a rating of 0.990 meaning she belonged in IRC3 Class and only two hours prior to the start this "error" was corrected.
Once we passed Needles Fairway there was no choice of course so we headed SW until the wind backed and we headed for the so much feared Casquets.
What we probably did wrong is tacking just a little bit too late. What we could not help is that the faster IRC2 boats came closer to Guernsey than we but they are simply faster and this time they had an advantage.
Finally we lost out on Astarte, double handed boat with Nick and Suzy Jones on board. They did beat us tactically at the end.
8th out of 58 boats seems not very good, not very bad and it was our first race in the season.
Winsome had good speed, the sail handling was perfect as well as the trimming of the mast. Theun steered very well, Leen trimmed the mainsail to perfection, Joost and Jasper were a good team happy to be on board, Boj was the usual Boj, always positive, always alert and Carien learned quickly how such an 11 tons boat was behaving in light weather.
We assume that all work done by Theun and by René has a very positive effect and we found that the steering gear worked wonderfull. So a good job has been done in Zaandam!!
After the prizegiving in St Malo, done by myself, we headed straight for the locks of St Malo but we had hardly any wind. We arrived at St Peter Port only at midnight where we found a large fleet of cruising boats who all decided to be ashore and get drunk. No chance for us to get ashore so a cup of tea and a cup of yoghurt was all we could eat. At 0700 we got up and head for the fuel station. Fortunately we did that, since also from that moment we hardly had any wind. Boom-boom-boom-boom-boom … and we reached the Needles at around 9:30pm. After midnight we reached 10 Union Road. East Cowes Marina was very kind to us to shift LUNA to another place and leave the keys in a place on board.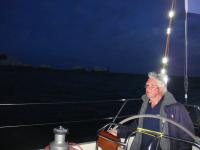 After one or two Gin and Tonics we found our beds. Today we cleaned the boat, took all cloths to 10 Union Road, visited Spencer Rigging two times for some smaller repairs and delivered LUNA back to Lallows.
Lallows will make some repairs this week in order to have Winsome fully ready for the RORC Channel Race next week. The Three-colour light and Iridium phone are not properly working but hopefully that will all work well again next week.