RORC Channel Race 2009
July 29, 2009
Start Saturday IRC2 Class at 08:10 British Summer Time. True Wind Speed 13 knots. True Wind Direction 280. Crew Wout van Everdingen, Joost Dantuma, Ed van den Heuvel, Francois van Vliet, Floris Oud, Carlo Vroon and myself. We started like all other boats under spinaker I. Wouter steered to a comfortable position in the front of the fleet. Towards Owers Buoy the wind increased upto 18 knots. We were able to keep up our spinaker I until we rounded Royal Sovereign Tower at SB at 15:35, though barely, including a peel of spinaker I to II, see photograph of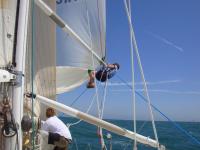 Francois le Monkey in the spinakerboom.
New crewmembers on board were Floris, Carlo and the previous owner of Winsome, that time called still Boléro, Ed.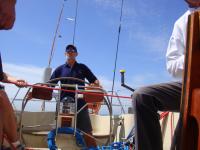 The wind increased upto 22 knots so we peeled again, now the Genoa, to Genoa II.
The night brought us suspense and uncertainty since the coordinates of Rustington Outfall Light Buoy did not correspond to the coordinates as we knew them. We observed many boats in the middle of the night rounding the Rustington Outfall Light Buoy, but  n o t  the Buoy indicated in the Sailing Instructions. We actually found that buoy which was small and did not carry a light. We even needed to make a tack to get back to that buoy so we must have lost at least 5 minutes. These minutes must have been aggravated later in the race when the wind dropped and the tide turned against us.
After we rounded Owers we hoisted, thanks to Francois, right away the Spi I and we tried to get in a straight line to the finish. As said earlier, the wind started dying and the tide started turning. We came close to JIBE who managed to get over the finish only 10 minutes before us, so we did beat them on handicap. Our result was a 3rd place in IRC2 Class with 22 competing boats resp. a 12th place overall out of 71. Winsome had good speed and performed well. Considering a crew who never sailed together before, we can be content with our result.
This week we are preparing WINSOME for Cowes Week. Today we motored her to Berthon Boat Yard in Lymington, where her hull was cleaned and antifouled. Tomorrow we will pick her up again and do our first training with Andy on the helm. Friday will be our serious training day when everyone will be present including the two "Friezen".
Crew for Cowes Week: Andy Cassell, Boj Mirck, Pieter Joosse, Joost Heikens, Floris Oud, Renze Runia, Jan de Vries and myself.
One day after we will finish Cowes Week we will start in the Rolex Fastnet Race with Boj, Joost and myself remaining on board from Cowes Week. Frank van Beuningen, Joost Dantuma, Pieter Köhne and Hendrik Blenken Blijdenstein will fly in to complete the 7 headed crew for Rolex Fastnet Race. Will be continued.