What went right on RORC's De Guignant Bowl Race
May 15, 2011
Contrary to our previous race, most things went alright so we must have learned from our last experience unlike politicians.
On Friday morning Joost and Babette started preparing Winsome for the race. On Friday afternoon Joost Nijhoff  and Pieter van den Hoek prepared us a nice meal after they did the shopping for this race.
On Friday evening Robert Langford-Wood came on board and helped me to reinstall the functioning of the Iridium telephone so that we could  download the weather. He also guided me as to putting the RORC route and some extra Waypoints in the system.
We left the box in East Cowes Marina 90 minutes prior to the start. An enormous advantage. It gave us sufficient time to do some crew briefing, put the startline in Deckman, hoist a spinaker, make some tacks, discuss the start etc.The result of all this was a fabulous start of Leen, bringing WINSOME as 1st boat over the startline a position we could keep until St Catherine's Point.  Being IRC Class 4 we had the first start with each next class starting 20 minutes later. The tide was just turning when we started so later classes must have had an advantage of having had a better tide from minute 1. Piet Vroon's TONNERRE de BRESKENS 3 started exactly 60 minutes after us but did not manage to pass us until after we had passed St Catherine's Point.
It was quite an exciting 25 Nm in the race being always in front of the entire fleet with some boats trying to pass us by going more than we inshore and with some other boats trying the same by just doing the opposite i.e. offshore. The offshore boats realized very quickly that this was the wrong idea and returned quickly to the inshore side of the water. The boats which went entirely inshore, including  MAJOR TOM, had less averse tide but made a larger distance and had less wind. Not any boat managed to pass us but we had to keep our nerves cool.
Right after rounding BRIDGE close to the Needles we hoisted spinaker I and since we had to make a long run of more than 60 Nm to Greenwich Lightvessel we did miss indeed our Daisy, locked up in UK-deVries storage in Makkum due to the fact that I simply forgot it was still there.
It was indeed a long run and on that run we could not possibly keep the J-boats behind us all surfing away from us. We had to decide during this run to change spinaker I for III and without Boj on board we had no choice but hoist Genoa I, take down spinaker I, hoist spinaker III and take down Genoa I.
After rounding Greenwich Lightvessel we had a long run close hauled until the moment we had to change Genoa I for Genoa II, a manoeuvre which did not go smoothly mainly because we left our golden rule "never change our agreed habits". We even feared that the Tylaska shackle on Genoa I was destroyed because of our mistake but this appeared not the case when we checked her once back in Cowes. Anyhow another lesson for the next time: our sailing should be like an army drill and do every time exactly the same thing and do not change something we agreed to do. Because I do not have the same crew on every race, it remains a problem to keep rules in place.
Unfortunately not all crewmembers could withstand the waves and  for a long time we had to sail the boat with half the crew only. Little sleep for said crew.
The wind decreased and we hoisted Genoa I but practically right thereafter it started blowing again, upto 25 knots TWS, but we had no chance anymore (with only half a crew) to make another change so we prayed and Genoa I did not give up. It left for me the idea like entering Tasman channel. Same situation Genoa I hoisted, wind upto 25 knots, no chance to change anymore for Genoa II.
Getting closer to the Solent we observed MAJOR TOM in front of, but never more than one Nm. We knew that we had to give him at least 14 minutes on rating and we considered it impossible to pass him get that far ahead. However at the end of the race we passed him in the first place and then saw him falling back considerably. After we finished MAJOR TOM lost the wind and he looked in trouble saying ahead of us in rating. At that moment we did not realize that we were fighting for places 1 and 2 in our Class. We lost from him by 19 seconds on rating after we passed the finish 15 minutes ahead of him.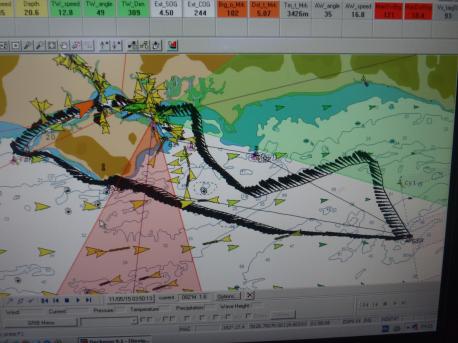 We believe this was an excellent result giving good hopes for our next races and there is still room for improvement.