Myth of Malham Race Cowes-Eddystone Rock 240 Nm
May 29, 2011
A great start, a good race and like the previous one we left as first boat the Solent and we arrived as first boat at the Meridian of Bill of Portland. Sofar so good. Everything went alright, good boat speed, good navigation and good spirits on board. With Pieter Köhne on board much more information about the weather was readily available.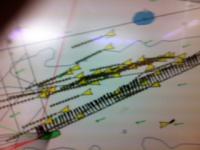 .
.
.
.
.
Shortly after we passed Bill of Portland, Aeolus decided to let the wind drop to 6 knots. Winsome with 6 knots of wind, in high waves is prone to a hobby-horse. We knew that for many years but there was little we could do. We had a speed for a couple of hours of only about 1 knot. Very very frustating and we did see a lot of lighter boats passing us at 4-5 knots speed. It all happened Friday afternoon around 5-9 PM.
The wind picked up shortly after it but only at 11 PM we enjoyed winds again of 15 knots. By that time we had lost an immense distance to the other boats. At 6 AM Saturday morning we rounded Eddystone Rock and we set spinaker III, fortunately.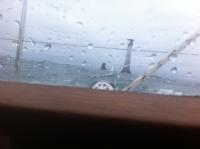 .
.
.
.
.
Rounding Eddystone Rock Lighthouse in 20 knots of wind
For a moment we thought of spinaker II but considering the weather forecast saying we could expect a gale later on we decided conservatively for spinaker III. This was our luck since the wind started to increase upto 25 knots at 10 AM, to 28 knots at 1 AM and to 30 knots later on. The boat was heavily rolling: some quite hairy rhythmic rolls. These rolls became so extreme that I feared personally we had gone too far in still keeping up the spinaker, but since Leen and Wout considered it safe enough I did let it all happen. Once I started helming myself, I felt already much better.When we got closer to the Isle of Wight the waves became even bigger and at a certain moment we had no choice but to take the spinaker down. Exactly when we started doing this the wind increased to 31 knots! The manoeuvre went alright. It was all discussed very well and the positons of each crew member were precisely defined.
Shortly after this manoeuvre I myself got ill, much to my own surprise. The only possible reason I could think of is a sort of migrain as a result of the building up of tension when rolling so much and shortly thereafter the relief that the boat was still under control. Wout gave me a lump of sugar and I steered for quite a while without any problem. Only thereafter the vomiting started and the race was over, at least for me, when we were about 2 hours away from the finish. One of the few finishes I have missed in the last 10 years.
During this 90 Nm downwind run we made good a lot of distance to the other boats, in spite of the fact that some of them went surfing at speeds of upto 13 knots (AIS information = Automatic Indentification System), but not enough to give us a better score than 10th out of 44 competitors. Of course this was a little bit disappointing but we knew this would happen the moment the wind died on Friday afternoon.
Though we are not quite satisfied with the result, we are content with the race and the boat itself. Since this race gave a premium of 20% to our score, the factored points for the RORC Championship were 86.4 which compared to a theoretical win in the North Sea Regatta (Harwich-Scheveningen) of 90 points for a first place (with less than 20 competitors) is not too bad.
Racing has changed considerably since the introduction of AIS, which enables us to see all other competitors (including their position, speed over ground and course) with AIS on board as well. It is like another type of racing really.
We had a fair race. We are not happy, but not unhappy either.
Next race Morgan Cup if at least there is sufficient crew, which may not be the case.
Will be continued.