J.P. Morgan Round the Island Race Saturday 25th of June 2011
June 26, 2011
Last year we won our Class IRC-2C with a second place in IRC2 overall, so our expectations were high.
This year it became a second place in our Class IRC-2C (69 participants) with a fifth place in IRC2 overall (168). In IRC overall (551) we became 26th.  Peter Morton did well and so did the crew. This crew is entirely the same crew for Cowes Week 2011 and this race was principally meant to be a training, apart from the fact it is a really fun race with 1.908 participating boats this year.
Winsome's unterwater hull was cleaned by Lallows and was looking good upon arrival in East Cowes Marina.
On Friday, the day prior to the race, we tested our new secret weapon Ruby but we failed to hoist any other foresail. Consequently we did not see that the tuff-luff was broken on starboard side so we were quite luckily having been able to do this race AT ALL.
The decision at the start as to the choice of the Genoa to be used, was difficult and we hesitated so long that Genoa III was only set (after a failed try to hoist Genoa II which appeared to be in the bag of Genoa I so consequently Genoa I was in the bag of Genoa II; can you still follow it?) 6 minutes prior to the start.
We had a very good start with some 25 knots of winds and we managed to get into the front of the fleet. We did not choose for a start too close to the Island shore with our heavy boat. YES! [name of a boat] did that and made a decisive gain already there. All was going well and we made altogether 29 tacks until we reached the Needles. Opinion of the helsman Peter Morton about the tactics, of the crew, of myself and of Deckman all were more or less the same.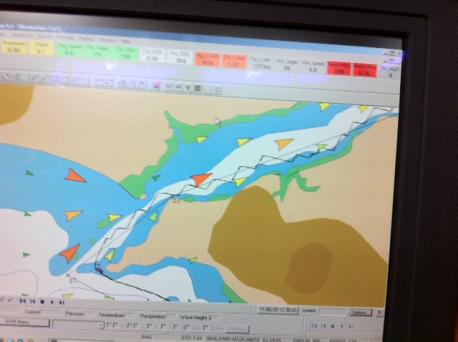 What we could not have foreseen that about 12 minutes after the start all of a sudden an old wooden gaffer came on port tack through the entire racing field. We did see him only at the last moment and could not avoid him anymore so he t-boned Winsome. Considerable damage, but that we discovered only later. The boat retired and admitted guilt. Winsome is now -once again- with Berthon Boat Yard in Lymington where she is always called Winsome IV, being the boat which once belonged to David O. May.
During the entire leg towards Needles, we were very content sailing Genoa III instead of II. Gusts upto 27 knots, 29 tacks altogether.
Getting close to the Needles we decided, or rather Peter Morton, to go in between the Light House and the Varvassi wreck. It all went alright. Still it is every time a relief.
Spinaker III up right after passing the Needles. The good wind stayed with us say 20-25 knots. Seatrack of Major Peter Shoffield did go a tick more inside the shore than we did and gained some distance on us. Too bad but too late to do anything about this. Close to St Catherine's we had to gybe three times to pass it safely in waves of say two metres high. It all went wonderfully well. Compliments to our foredeckers Floris and Hidde.
The leg from  St Catherine's to Bembridge ledge was on straight line, confirmed by Mr Deckman, and there was little we could better than we did already. At this leg we passed a great number of boats all sailing without spinaker. Still two boats without spinaker did their utmost to give us a hard time by luffing us all of sudden. Strange birds are also on the water in great numbers.
We chose for Genoa II at Bembridge ledge. Wind 22-25 knots. Good rounding of Bembridge Ledge Buoy.
Close to No Man's Land Fort we had a little discussion as to passing the mark at the end of the old underwater wall. My Deckman Charts showed the mark at the wrong place moreover with an astronomical lowest level of 0,2 metres whilst the waterlevel at low water at Portsmouth showed 1,90 metres. Lots of discussions between navtable and pit so finally we followed some other boats of our size and all went well, again.
The last beat gave us a lot of wind. What we really did not do well, on hindsight, was not to tie in one reef in the mainsail so Winsome listed a lot. We stayed on the shoreline of the Island though Peter's observation was that boats in the middle of the Solent would have gained on us, in spite of the fact that they must had more adverse tide than we did.
Apart from the damage we had a marvelous race which really brought us everything a sailor can wish with enough excitement.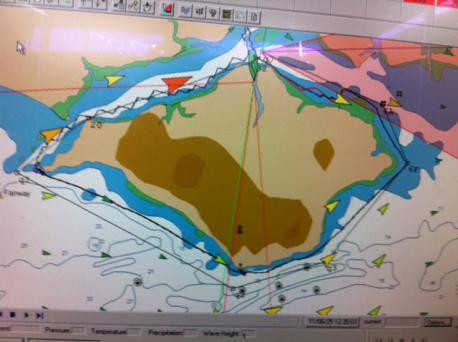 Some data: 1908 participating boats of which 438 retired and 16 boats were scored DSQ/OCS. 1302 boats finished. Overall winner in IRC a Contessa 26, number 2 a Farr 52 so one could say that the handicap system is working rather well.
Any Cassell, who told us that they surfed all the way from the Needles to Bembridge Ledge with his Sonar called Jenny became 11th overall in IRC. No win but the 1 was in his scoring number giving hope for the future. Well done Andy, you are a hero doing such race in these weather circumstances, beating Winsome with 15 places.
In our IRC-2C class we were only beaten by Adam Gosling and his YES!. Congratulations to them (again). All of WINSOME's crew, including Skipper and Helmsman will be placed on a 6 week no alcohol, only  healthy food and physical exercise programme …. as WINSOME will be battling YES! and FEVER in six weeks from now!!!
Now we will have to deal with the damage caused by the old gaffer and get her ready in time for our next race RORC Cowes-Dinard (St Malo) starting Friday 8th of July.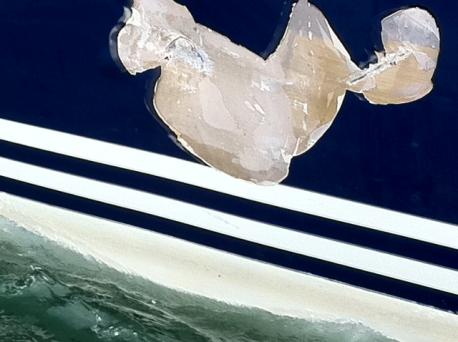 Our blog will be continued during or after Cowes-Dinard.