Miseria on day 3 of Cowes Week
August 8, 2011
Today we started with good hope and full of confidence. After all we had a first and a third place in our pocket.
We had a good start, probably the best of all boats, under spinaker and at the start we were only 2 boat lengths away from the start line. All efforts we put in to get the correct start line in the Deckman, paid off.
We started with some 20 knots of wind under spinaker I and though we arrived as first boat of the pack which started together with us, we arrived only at boat number 4 of the entire IRC-5  since the other pack which started closer to the Island just arrived some lengths ahead of us.
All went well during the race, until we had to round Browndown at the end of the race. We still were ahead of Yes! and of Fever. Fever broached and caused us enormous problems to avoid him. To round Browndown we had to gybe, but we were locked in and we could not make the gybe until very close to the buoy. Then it went wrong since we had to deal with both Fever and Boomerang. After we rounded the buoy Boomerang tacked shortly after the rounding and their helsman even apologized for it, however it turned out later that Boomerang protested us. A complete misunderstanding.
I was completely occupied in my navigation corner and therefore not aware what happened on the water in relation to the other boats.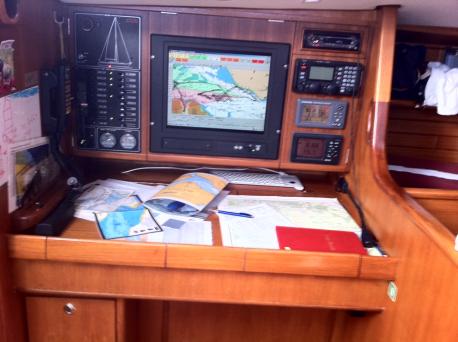 The wind did build up to 27 knots and we changed Genoa II for Genoa III, mainly because the leech-line cleat could not be used anymore and we were afraid we would damage Genoa II completely.
After some hectic moments we finished as 3rd boat on the water -so another gun- but we ranked as boat no 5 in the scoring. After Brightwork took a penalty we ranked as boat no 4.
When I arrived with Boj in the Protest Room to do our duty as Assistant Sheriff, I learned that Boomerang protested us. Peter Morton came to the Protest Committee to defend our case and though we was confident we would be cleared, we were disqualified (DSQ) by the Jury. Back luck. Nothing is lost yet since we can take one discart in the week, however one more mistake or a lay days (for instance if there is no wind) and our DSQ will count and all our chances for a score with the first three will be lost.
As sailor you have to be an optimist so we are once again full of confidence for tomorrow and for the next days. The boat is in good shape and our damaged sailbattens and the leech-line cleat will be repaired by Medina Sailmakers by tomorrow morning.
Some photographs taken today by Joost Nijhoff from Luna.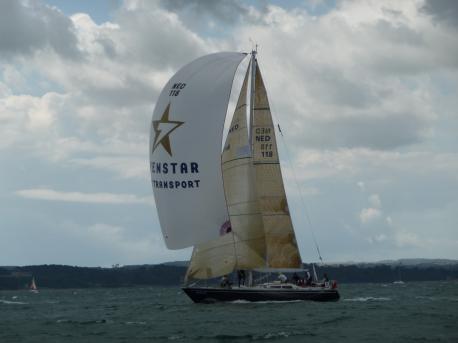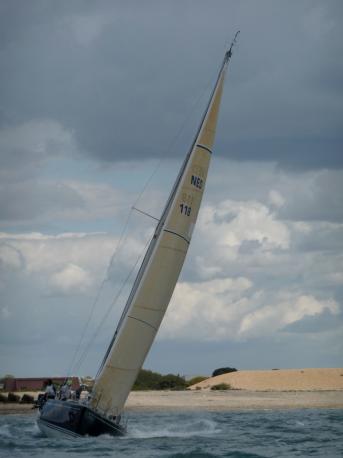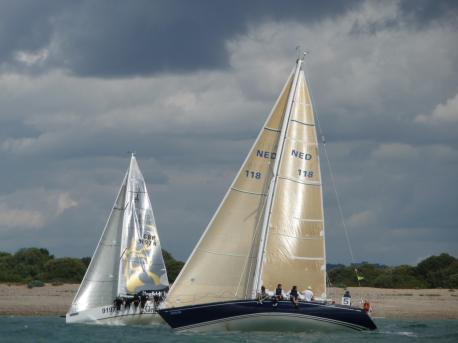 Fever, the winner of today, next to Winsome.
Believe it or not, we had a fantastic Cowes Week, in spite of our miseria. Big boys do not cry, isn't it?
Tomorrow another day, another blog.