Winsome Rolex Fastnet Race 2011 – day3
August 17, 2011
After rounding the Fastnet Rock, the weather got much lighter. It did not mean we could take a rest since we had to keep our competitors from our tail.
When we rounding the Fastnet Rock, we first set spinaker I, trimmed the sails, cleaned up the boat etc. Only thereafter we uncorked our bottle of Champagne and we unpacked the 8 Champagne flutes. No music, dark sky, time of rounding 21:52UTC. We did not even manage to empty the bottle. Leen(dert) was asleep and got his drink offered a couple of hours later.
Our patient on board kept on sleeping for the entire night and is feeling a little bit better today. So for the time being we have stopped any efforts to get him to disembark from Winsome at either the Scillies or at Falmouth. The medical advice we got was not alarming and we keep him under anti biotics and strict orders to stay in his bunk. The last item is the most difficult.
We still have to go 166Nm to the finish so expect to arrive in Plymouth by tomorrow, Thursday afternoon, all going well.
Today I looked every hour at the positions of our competitors who are a threat to our leaderboard position which is still No 1 now:
Pinta-M        34Nm behind us
Iromiguy    65Nm behind us
Hakuna Makata    17Nm behind us
Elmarleen    72Nm behind us
Hephzibah    60Nm behind us
I consider Elmarleen and Iromiguy, in this sequence, are the most dangerous competitors because there rating gives them the chance to arrive 12 hours (Elmarleen) and 8 hours (Iromiguy) after us and still win the race in accordance with the IRC handicap system, which is very good and fair as well. How it works is nicely explained on RORC's webpage in the heading of the Leaderboard.
Checking upon some friends:
Marinero 60Nm behind us.
Ken Newman doing his 25th Fastnet Race and will certainly be disappointed so may have opened one of his tactical bottles of whiskey. He must be 84 now.
Swan Walhalla 57Nm behind us.
Manfred Schepers will regret his remarks he made in the bar at Cowes Yacht Haven.
Tonnerre de Br 57Nm ahead.
Piet Vroon may be doing only his 23rd Fastnet Race but is still enjoying this race at 82. Fantastic Piet, you are the best and most famous Dutch sailor I think.
Panther 5Nm to West
Yvonne Beusker did her first Cowes Week followed by this race for the very first time. She and her team is assisted by an "old fox", well not so old but a fox, Radboud Crul. We have seen following her on AIS all the time. On the leaderboard they were given a wrong position i.e. 54nM behind us, unless the Panther we see on our AIS would be the other
Panther in this race.
Eclipse 69Nm behind us
Our very nice American neighbour in East Cowes Marina Greg Conary.
This race will be ended only at the finish and we realize that very well.
If you would believe one moment that I forgotten all about home, I contradict this with this photo showing 3/4 of my grandchildren Theun, Wiecher and Maas.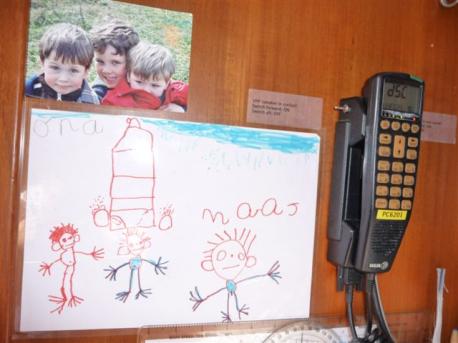 Tomorrow next blog.