Spain-Cabo Verde
November 11, 2011
The flight from Las Palmas 10th of November was a perfect flight. Nice weather, no turbulence, no headwinds, good sandwiches and coffee.
I made my first VNAV approach (it would take too long to explain this to the non-flyers amongst you) whilst Urs teached me how to create a waypoint at a chosen radial and at a given distance from a waypoint in our data base. I did realize that Markus Bhend showed me this once already, but I must have forgotten it. Sorry Markus.
The aircraft showed a very low consumption of fuel on our maximum altitude of 9 km, considerably less than the 1 liter per Nm which I use to explain friends and family. For the pilots: 330 lbs at FL300.
The entire flight just took us just over 4,2 hours, not even enough to make a phonecall with the Iridium, nor to make my printer running again.
bye bye Las Palmas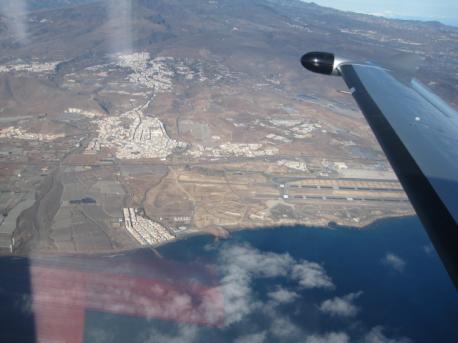 for hours only water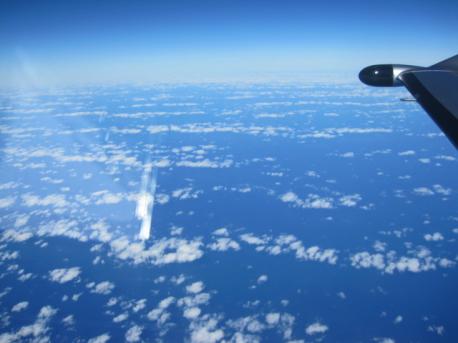 SAL Cabo Verde is not the island for vacation…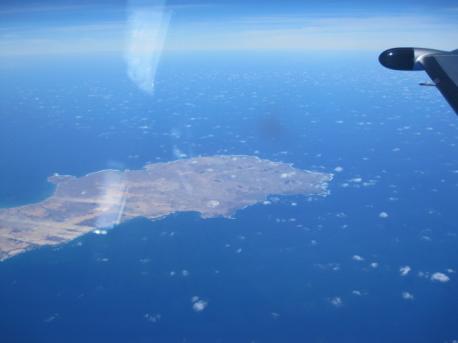 It was 28 degrees C on arrival. As Wout had informed us Praia has a very modern airport. It is however probably the only modern outfit on the entire island of Santiago. Most houses look unfinished. Not so much different than the island of Fiji we visited last year.
Today we made a tourist trip, a day of complete relaxation prior to our very long trip tomorrow, and we visited the old (city) Cidade Velha here slaves were sold in the 16th century for transportation to the USA. Santiago is really a big island, about 50 km long and rather hilly.
Back to tomorrow. At this moment the weather shows a headwind of only 8 knots which would be good enough to cover the 1.500 Nm to Natal, all going well, unforeseen circumstances excluded. We will watch our progress carefully and calculate at least every 30 minutes our "point of no return" in order to stay out of trouble. Our calculations show our flight will take 6,5 hours (no anchoring this time either, Monique).
We have made numerous calculations, which I consider good excercise for me, all being checked with the red pen by Urs.
All flightplans and flight calculations made by Andy Farmer of Nal Jets are showing great skills and Nano precision. Thanks Andy.
All ISDN-Jeppesen data are up to date and the paper maps are at hand. Thanks Jeppesen, thanks Sarah.
Sophie is taking a flight via Lisbon to Rio de Janeiro, on my request. Less weight, less risk. Thanks Sophie.
Theun, Wiecher, Maas en Hidde. Ik heb jullie foto's in het vliegtuig en denk aan jullie. Het moet wel een beroerde maandagochtend (H) en vervelende dinsdagavond (TWM) geweest zijn, maar nog even de tanden op elkaar. Voor je het weet is het 20 december.
We will switch the tracker on as usual. It works well, thanks Sierra-Echo, thanks Jennifer.
Last but not least I want to thank Aline for keeping our blog up to date.
Will be continued.
Citade Velha – in 1466 the sellement became an important port for trading
slaves (Wikipedia)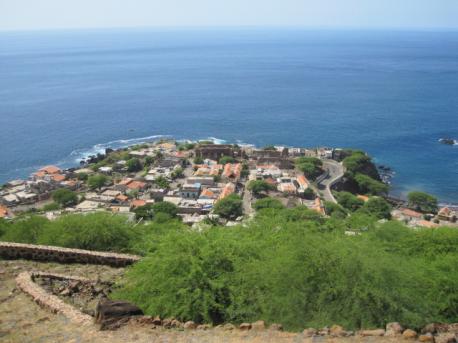 Pillory at Citade Velha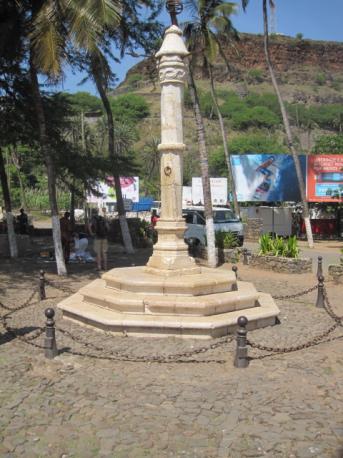 …a very long flight over water is waiting for us tomorrow….!!