RORC Morgan Cup 5th May 2012
May 8, 2012
The very first race in the history of RORC, in which a virtual waypoint was used. Actually right away two.
Frank delivered us a good start. He brought Winsome out of the Medina by steering her very close to the orange inflatable buoy. Right after we got the confirmation that we had a clear start, spinaker II was hoisted. Wind 18-22 knots.
Until about Sconce Buoy we could keep pace with the new Salvo of Peter Morton. At noon Salvo managed to be 0,6 Nm ahead of us; at 1800 about 4,7 Nm.
We raced well and kept good speed though the waves prevented Winsome from keeping pace with the lighter boats.
Until the second virtual waypoint, where we met Ultreia! again without her AIS switched on, we were leading our Class but on the leg of about 40 Nm to Owers we made a tactical mistake as a result of miscommunication on board. I will keep this a secret knowing other boats are reading our webpage. We have discussed it already on Sunday after the race. I have made a complaint to RORC that not all boats in our class did use their AIS, which is unfair considering the obligation for all boats to have it on.
Also Foggy Dew was long in sight, so we are somewhat disappointed not having been able to maintain our lead and scored only a poor 5th position.
Most of the time we had Swan Valhalla in sight, a beautifull Swan 55 Yawl beloning to Sam van Holthe crewed by Manfred Schepers. If I am not mistaken it is also a S&S design. She had problems with a broken spinaker boom and that must have been the reason why so finished only a couple of minutes ahead of us instead of an hour or so.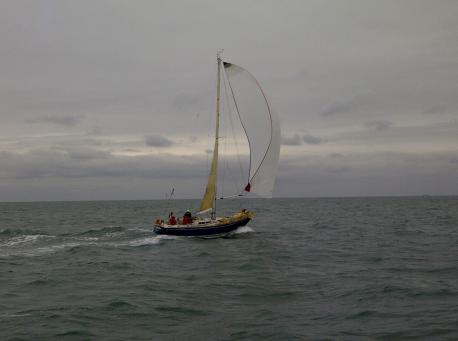 Boathandling and speed were satisfactorily. Our instruments are not yet calibrated perfectly.
We are looking forward to the next race on Friday 1st of June to Deauville of about 100 Nm.
After the race we had a look at Peter Morton's new Salvo and we noticed how good Peter can clean a boat. We need to keep that in mind when he will helm Winsome again.