The Myth of Malham Drop Out Race
June 26, 2012
This was a remarkable race in many ways.
Crew Leen Hoogmoed, Frank van Beuningen, Boj Mirck, Joost Dantuma, Pieter Köhne, Pieter Joosse, Jan van Balkom and myself.
The weather forecast showed 30 knots gusting 35, decreasing soon after the start to 20 knots. Two hours prior to the start the RORC Racing Committee decided to postpone the race 3 hours since the wind increased at the end of the morning. We all hoped that the wind would die, but the contrary happened. RORC had 32 boats registered for a start in five different classes, but during the day half of the fleet decided not to sail the race at all i.e. not even start.
Finally 15 boats appeared at the start but prior to the Needles only 5-7 boats were still racing. We saw on AIS that Iromiguy retired on the water of the Solent so did not go as far as Hurst Castle, whereas Foggy Dew continued until after Hurst Castle and turned into Christchurch Bay. A couple of hours or so later she must have retired as well.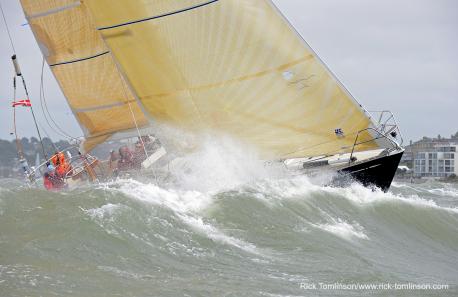 Finally three boats continued racing Magnum III, Voador (double handed!!) and Winsome.
When we passed Buoy Bridge we got huge waves of probably 5 meters in which Winsome got buried. Our cockpit filled at least two times with water. Unfortunately we started with Genoa III (instead of Genoa IV) and with one reef (instead of two). We really had too much sail on the boat. However to change from Genoa III to Genoa IV would have asked an immense effort of the crew, so considering the weather forecast that wind would decrease, we stayed with Genoa III. We took a second reef in the Mainsail very soon.
It took us only two hours to reach Bridge Buoy. Winsome was the first boat at that time. When passing the Needles Fairway Buoy in difficult circumstances I nearly got a heart attack when the depth meter showed three times a depth of 1,60 meters. That must have been caused by gravel coming off the Shingles Banks, since the chart depth indicated sufficient water. Still a very very unpleasant experience and I thought what could have happened in case we would have grounded there. I better keep it to myself. If you are curious to know about my darkest thoughts at that moment, please look at the July edition of Yachting World page 14.
In the night the wind decreased to 20-23 knots but we had an "old sea" meaning high waves created earlier by the strong winds at the start. It was extremely unpleasant on board. No one could take a meal, so we took peanuts and chips.
Because of the delayed start there was no way we could make the tide at Bill of Portland. On the contrary we had full tide against us. We did observe on AIS that Voador stayed close to the coast. She did not gain on Winsome but the boat encountered probably much nicer waves than we did. At that time we sometimes got a glimpse of Magnum III with Andrew Pearce on board.
We passed Bill of Portland with great problems i.e. slow and we headed for Start Point. At that time the keyboard of the pc gave up life, so we had enough difficulties to get the system working with the pc under the chart table directly. This caused enormous problems since all Waypoints we had in B&G Deckman appeared to be Waypoints on shore and B&G Deckman refused to accept the Waypoints from the Furuno, which were at reasonable distances (3-7-5 Nm) from the Anvil Point, Bill of Portland and Start Point. Professor Köhne found (of course) a way around it later, but with everyone a little bit ill it was not very easy. Sleeping was difficult but we kept hope driven by the idea that only few boats, if any, would finish the race.
From Start Point it took us ages to round The Eddystone Lighthouse/Rocks, it finally happened at 1624 UTC. We gave the Eddystone Rock a wider berth than ever before [Wikipedia says "The Eddystone Lighthouse is on the tracherous Eddystone Rocks"]. Just at that moment we received two gale warnings. One for Plymouth area "soon" meaning after 6 hours, one for Portland-Dover "later", meaning after 12 hours.
Then we hoisted our new Spinnaker III, wind 23 knots. Winsome made long rolls around her longitudinal axe, unpleasant to sail and difficult to sleep. We went like a rocket and met Voador at some 3 Nm after our rounding. At that moment she must have been some 6 Nm behind us. Later, in between Start Point and Anvil Point, we could see Voador (mind you double handed, a father and 23 years young daughter on board) going at speeds of over 13 knots (SOG). Incredible to do such a race double handed. It would be much better if they join the Winsome crew next time perhaps. We will  have to discuss it with them.
Close to Anvil Point  we were passed by Voador. Because of fear to rip our Main Sail we made storm rounds in Christchurch Bay, instead of gybing. Unfortunately at the very end, deep into Christchurch Bay, the Main Sail gave up and was torn at the usual spot i.e. at the leech 3-4 meters down from the top. We took the Main Sail down, tied it on the boom and we limped home i.e. to North Head Buoy and thereafter to the finish at Lymington Bank.
At that time we realized that Voador might overtake us as well on handicap. Nikki Curwen, the Skipper of Voador, wrote me today "A tough race on all counts. Big shame to hear about your main – we did wonder if anything had happened as we were expecting you to be right on our tail at North Head Buoy, and taking us on corrected time. Congratulations once again"
In the meantime we were sure that indeed 3 boats would complete the race.
I found it unbelievable to see a RORC Committee Boat on the Finish. Congratulations and thanks to those brave RORC racing officers on board!
Personally I found it a terrible race and of course since we are back we discussed many times the issue if we really should have started this race. Many times during this race I said to myself that I am too old for such Off Shore Races, but once back in Amsterdam I learned that the same thoughts about Off Shore Racing occurred to the very young ones on board as well. Fortunately my 89 years young mother has a solution for everything. She says that the two most important things in life are "a good health and a bad memory".
Our next race is next Saturday 30th of June, The Round the Island Race organized by the Island Sailing Club, in which we had two very good scores (1-2) in our Class the last two years. The question is now how our older Main Sail will do if we would have a lot of wind again.
Someone of the crew will be back with another report  next week.