The perfect race
July 21, 2012
Cowes/St Malo, always a difficult and highly tactical race. The one and only time we won this race was back in 2003 with 72 participants in Class IRC-2 [with Theun Hoogmoed on the helm], so I thought it was time to get another victory now with 32 participants in Class IRC-4.
Before the start at 10:00 lt we had a wind between 18 and 23 knots. After some discussions and deliberations Genoa II was set, in spite of my remark that we have a tendency to have too much sail on when starting. With always changing crews we hardly learn from previous experiences. We had a very good start with Richard Sevenstar on the helm. The first ten minutes the choice of Genoa II appeared to be the right one, but another ten minutes later we had no choice but to change to Genoa III. One has to realize that we harvested a good position in the field by having started with Genoa II so even on hindsight it was a good decision. Our foredeck crew made no mistake and did the job to change to Genoa III without any problems in winds of 22 to 25 knots.
This time we had a different tide going down the Solent, since our start was halfway the high and low water, so close to Sconce Buoy the tide turned already against us. Different thinking, different tactics. We were competing with Macaya, an ILC30 which later on had to be towed into Poole (still no idea what has happened to them, but will investigate) and with Cervantes IV, a Two Tonner. No other boats very much in sight -we simply ignored Leopard and looked away from her- except Foggy Dew coming a little closer all the time. She started 10 minutes later in Class IRC-3.
At the Needles Fairway Buoy we had only Leopard and Macaya in front of us, something to be proud of. Really on every race this year, our first leg down the Solent has been close to perfect! We must have learned something in the last 10 years.
Leopard missed the Needles Fairway Buoy, but returned to correct their mistake.  Also Venomous missed the Buoy entirely but apparently decided to give up and to proceed to Cherbourg so we had no need to protest her and give Sonja Mayes extra work.
After we reached Anvil Point we continued, together with Foggy Dew and Courrier Vintage to St Alban's Head. Exactly there we tacked and we managed to pass the to the West of Guernsey at about 0,5 to 1,0 Nm so we avoided the very unpleasant waves close to the rocks of Les Hanois, whilst I could observe on the AIS many boats having to tack in order to be able pass Les Hanois. At that time the tide was already against the fleet.
Once we passed Guernsey the waves became friendlier and at one moment we had half an hour of sunshine, something unheard of this season.
Since the new finish was just in front of the locks in St Malo harbor I prepared the crew not to consider hoisting a spinnaker on the last 5 Nm which would lead in between unpleasant rocks, however once we got closer and the waves became less, I was the first one who changed mind and ask the crew to prepare the Spinnaker III for the last part of the race. Within 10 minutes from hoisting our spinnaker in a field of boats without spinnaker, we saw spinnakers being set like mushrooms.
When we passed the finish I had personally the idea that we would be 1st in our Class, with Iromiguy far behind us and all competitors in our Class at a safe distance. I had however not counted at all with the two French boats J/105 Moontiger with JeanPierre Bonet and JPK 9.60 Leonardo with Eric Mordret, which and whom I did not know and which I moreover never did see on AIS so it was a disappointment that we finished "only" as 3rd boat.
I believe personally, confirmed by talks with Gery Trentesaux and others, that we did the perfect race tactically. Unfortunately on the long way of say 80 Nm from St Alban's Head to Guernsey the waves were relatively short in relation to their height. Winsome really slammed into those waves, decreasing her speed on each big wave from 6-7 to 4-5 knots and then it took us 2 minutes to get to 6-7 knots. I do not think we could have done anything better than we did, but with Géry Trentesaux on board it might have been different after all. We will never know, nor will he.
After four overall wins in this race, Gery became "only" 2nd overall with MC34 Patton, Courrier Vintage. Fantastic I must say.
Winsome is still 1st on the leader board of Class IRC-4 and 7th on the leader board of IRC Overall.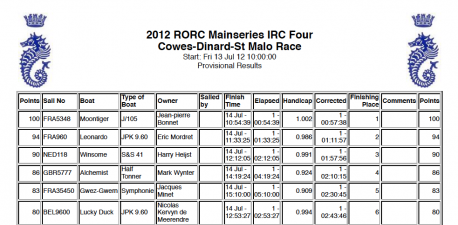 Because of the participation of Floris Oud and Joost Nijhoff, Winsome won The Newcome Hoare Memorial Trophy for the best place overall for a boat having at least 25% of the crew under 25 years of age.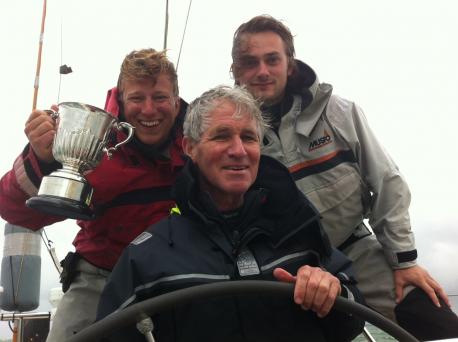 Next Races will be RORC Channel Race, Cowes Week and RORC Cherbourg Race to finish the season.
Winsome resting after the race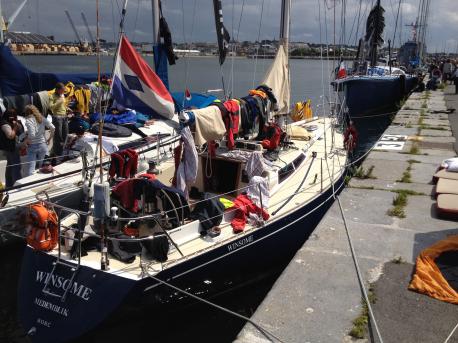 Sunset St Malo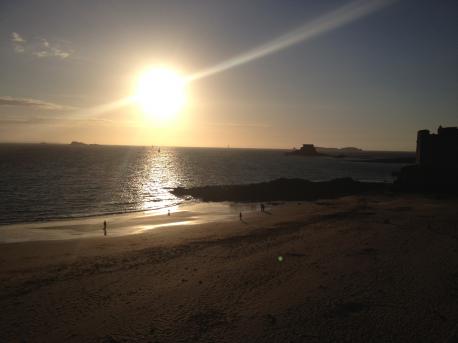 Marching into the St Malo night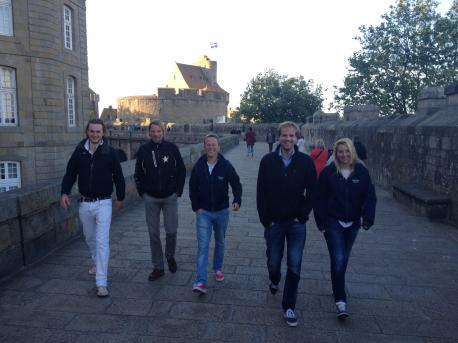 The Skipper considers this was a perfect race by Winsome, so how is it then possible we were only on the 3rd place. Le penseur va penser un peu.