Jules Verne 2013. We had a 100% score by completing this trip on June 28.
June 30, 2013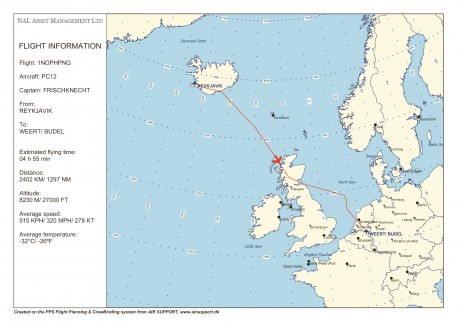 The last trip from Reykjavik to Budel we made in 04:18 hours. Strong tailwinds helped us to do it that quickly. We had a plan B and that was to stop in Stornoway and take fuel. That appeared not to be necessary. Fuel was one reason for the stop, another one was that Aernaut traveling on his Perks had his honeymoon in Stornoway. It was quiet there and cheap. Just different times than now being transported by a private aircraft over the ocean.
Not at any moment we even thought about our survival suits, dinghies or an emergency landing. I do not know anymore who it who counted that Urs, Sophie, Aernaut and myself had 11 children plus 7,5 grandchildren (the 0,5 comes for my account via Otto and Jeanine) and 3 dogs.
We must have covered about 17.260 Nm. The Tracker is now corrected including the part when we headed North from Mongolia, and then North East, to avoid Chinese Airspace in which we were not welcome.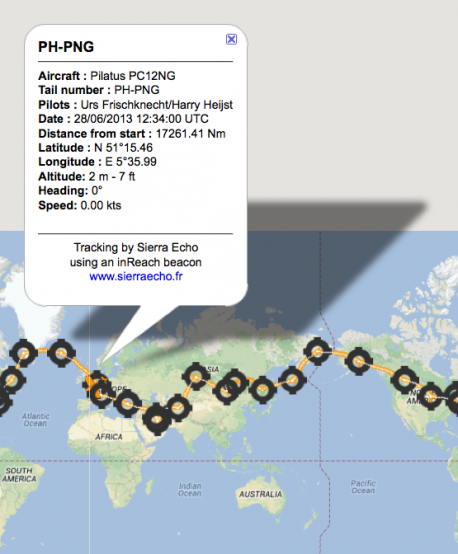 We tried to leave Reykjavik at 0730 LT but it finally was 0755 before we could depart. No breakfast in the hotel at 0650 caused some delay in the first place.

All the way we had good weather but at the end, close to our final destination Budel, we did not have too much visibility. Fortunately just enough to make a legal and safe landing at EHBD [Budel].
Ruud Fransen greeted us, told me within the first five minutes after our arrival that I had to move out of my mini-office in Kempen Airport and showed me simultaneousy my new mini-office. No offence, just life.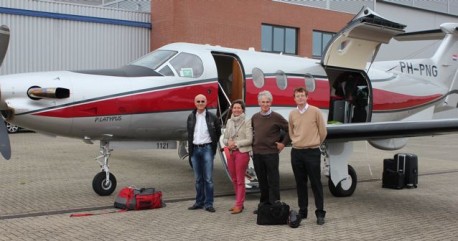 Now I am coming to the most difficult paragraph of any of my blogs. That is to thank the people who made this trip possible respectively enjoyable.
Andy Farmer, Flight planning
Howard Pearce, permission of underwriters to land in countries like Iran and Mongolia.
Fabian Conne, Bettyna Aulepp, Fabienne Iten of Pilatus
Kempen Airport, maintenance of the a/c plus additional assistance
ABN Amro Bank and VISA, no need to tell you why
Spliethoff, guiding me to ships' Agents in various ports and assisting me to obtain a Russian multiple visa
Bettina Arbenz and Margherita Lanfranconi of Aerolocarno, assistance and guidance for this flight and for the preparation of the a/c
Philippe Winum of Sierra Echo controlling the Iridium Tracker from distance resp. placing our track on the webpage
Aline Billiet putting together the blog and the photographs, nearly every day.
BP selling us two Quarts of oil for the P&W engine
Captain Yunus, receiving us in Istanbul (and recommended us to visit Khabarovsk)
Mehrdad Farhangmehr, to receive us in Esfahan and showing us the beauty of Esfahan and of the country
Amir and Samantha Setoudeh, guiding us around Shiraz
Tom Mason and Ryan van Geest of Blue Sky Aviation, getting us out of troubles in Ulaanbator
Sergey Akhromeev, Irina Kidavona and Olga Bubenets of Kamchatka Shipping Company, having given us -as predicted by Olga- unforgettable good memories of the Kamchatka Peninsula and of the hospitality shown
Romana and Peter Yuca, who opened their house and steak cellar to us
Jim Hillegass and Veronique Wantz, who welcomed us in their home near Minneapolis and offered as a boat trip on one of the nearby lakes. I feel the urge to mention that Veronique was taken into hospital the day after we left.
Hans and Peggy Bok, Rodney Tibbetts, NorEast, Knute and Jan Aarsheim, Henk Bok. They all received us like kings in the New Bedford area.
Sophie Andersen and Aernaut Meijer, keeping us company as passengers during the last part of this trip.
John Sveistrup, Jim and Daniella Levoguer, Suzanne Paquin and Peter Rose who entertained us in Montreal.
Michiel Irish' Stephenson, keeping us sharp with his daily public comments on our blog
No doubt there must be someone I have omitted from this list. My apologies now already.
I have no news nor indication what could be the next trip for Pllatypus.
Perhaps…