Last RORC race in 2013 to Cherbourg
September 19, 2013
Since more than two weeks went by without being able to write this blog, it may difficult to retrieve the emotions of this race. Still I will do my best. Let us see the outcome.
The race started on Friday 6th of September at 1700 LT. Half the crew consisted of non regulars in the last seasons so I was happy to see a sort of come back of Pieter Joosse, Jan van Balkom, Jan Maarten Boissevain and Francois du Vliet. Jasper Heikens represented Joost and Babette at the same time. I do trust I will see all of you back in the 2014 season! The core of the crew consisted of Leen, Floris and myself. We do not see so many races with 8 crewmembers on board but this was one of them, except of course for the Aberdeen Cowes Week.
We started to the East. TWS 17 knots, TWD 235 degrees. We had time enough to get a good startline in the Deckman system and that helped Leen to position Winsome well. We stormed to the startline, with the spinnaker in standby position, and we felt like an AC boat. At the very last moment Leen had to throw in a gybe in order to not cross the startline too early. The result was that we were 3 second after the gun over the line and that was probably one minute earlier than the 2nd boat in Classes 3&4. Unfortunately the score in the race is calculated by RORC at the finishline and not at the startline.
Half way the Solent towards the Forts we were passed by most of the JPK's, they simply go faster than Winsome and there was little we could about that. When passing No Man's Land Fort we dropped our spi II but so the wind dropped to TWS of 9 knots. The route to Bembridge Ledge Buoy was one straight line of all boats. In the meantime we were passed by IRC-1 and IRC-2 boats such as Tonnerre de Breskens and Magnum III. For sure we must have been passed as well by Gery Trentesaux in this Courrier Vintage, but that boat is so small that we must have overlooked him. Rule 1 in RORC races is never to overlooked nor ignore Gery. He finally won the race overall. His more or less usual score. Congratulations Gery.
We choose to proceed after Bembridge Ledge South, like Tonnerre de Breskens, whereas other boats such as Courrier Vintage, Iromiguy and Diablo-J stayed under the IoW heading for St Catherines. It looked like on first sight that the last boats did it better though it remains difficult to decide that in an absolute way since Diablo-J had a lower score than Winsome.
After a couple of hours the wind backed so we had to make a tack and since the wind continued to drop, we had to tack several times. In the course of the evening it appeared already that we would not be able to reach Cherbourg on the West going tide. So basically I felt at that moment already that the call it St Catherine boats probably made a better choice.
When you look at our course on the Deckman, you can see that it does not look like an ideal course.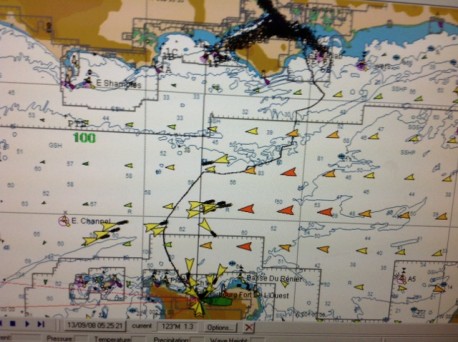 We passed finally Cherbourg on the West going tide to meet later the East going tide. We took a good reserve in order to avoid a similar situation 2-3 years ago when we had to anchor. Mind you the tide was running at 4 knots!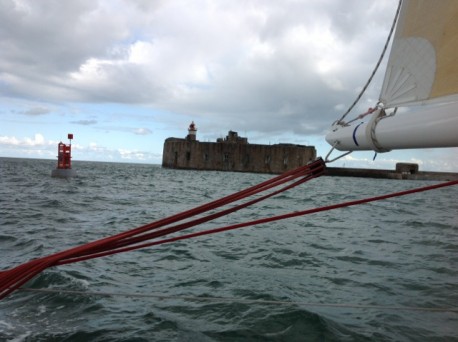 Thus no victory in this race either. We became 5th only.

We were picked up by Sophie and our cooks assisted her to prepare a dinner at La Peintrerie, her house in Morsalines. Open fire etc. I quickly rode her horse PinUp.
The next morning we left La Peintrerie at 0600 in order to make sure we would arrive a decent time in Cowes. We started with little wind, but with high enough waves and the inevitable happened, Sophie got seasick.
After we arrived in Cowes, we started to dismantle the boat and prepare her for a short delivery trip to Berthon Boat Yard in Lymington. This will take place only in October or in November.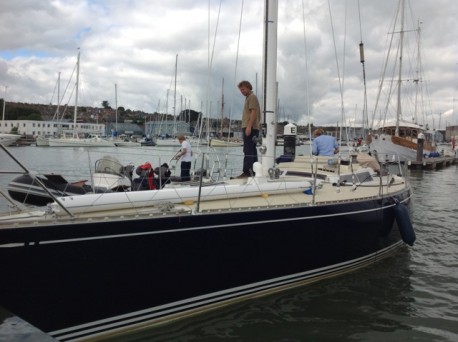 End of a season plagued by a long absence of the Skipper i.e. myself. Next season will be different and I hope for participation of some of the lost sons (perhaps also a daughter) in 15 years of racing with Winsome.
Will be continued once Winsome has arrived in Lymington for her winter repairs and maintenance.
Thanks to everyone who sailed or helped sailing Winsome in the 2013 season.