Big progress during IRC Nationals 2014, but no silverware
June 15, 2014
With nearly the complete team for Aberdeen Cowes Week 2014, we participated in the IRC  Nationals. Three days racing with the intention to have three races per day.
Joost Heikens replaced Hidde Kroon in this training, whilst Joost Nijhoff will replace Joost Heikens during the Aberdeen Cowes Week. Can you still follow it? If not you may also say that Joost Heikens replaced Joost Nijhoff, who replaces Joost Heikens in Aberdeen Cowes Week. Get it? If not let it go and continue reading.
The first two days we struggled with shortage of wind and we had no power to let Winsome perform om her best. Moreover I did not have the tidal streams in Expedition under control but thanks to Wouter Verbraak that was corrected on day III.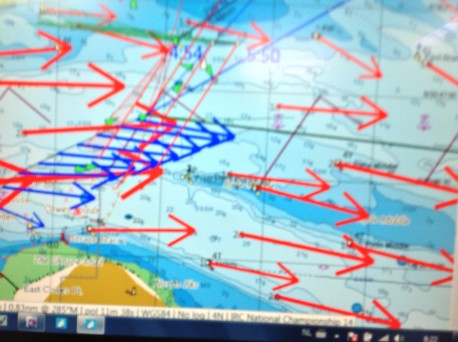 Each and every day we had one retirement [RET].
On day I because we did not have our storm jib on board, nor sail markings (to maximize the length [E] of the foot nor the length [P] of the leading edge) of the main sail.
On day II we ran into the transom of COR BLIMEY, a Corby 30, where we left a hole and caused other damages such as a broken boomvang as a result of their subsequent running into the starting boat. Of course we apologized to the skipper of that boat. He took it elegantly as something which can happen in racing. After all we pushed a boat of perhaps 4 tons (?) with our 11 tons. The next movie shows the entire incident.
On day III we had  to retire to get part of the crew in time on the 1755 flight to Schiphol.
One could say we have been very consistent i.e. daily in RET declarations.
In short our results,  discounting the three RET:
Day I:     6-5
Day II:  11-6
Day III:  2-3,5 [3,5 means an ex aequo 3rd place]
So a big big improvement on day III. We had wind, we had better boat handling and tactics ánd we had the tidal streams on the computer screen. But well what else  could one expect, after our first dinner with the entire crew at the RYS on Saturday evening.
So we are content of this achievement and we are looking  good, not only for Aberdeen Cowes, but also for JP Morgan Round the Island Race next week.
After we finished we observed a vessel with a full deckload of yachts, so I wondered, and still wonder, if this vessel was chartered by Sevenstar. If not she must have been a pirate vessel.