WINSOME moving in the Mediterranean without moving herself
September 20, 2014
SEVENSTAR'S BBC GREENLAND arrived today in Genoa. WINSOME is looking in good shape, as well as the two other participants in the Rolex Middle Sea Race:  VARUNA (overall winner of Sevenstar's Round Britain & Ireland Race 2014) and BELLADONNA (on which will sail two sailing friends i.e. Nick Jones and our RORC Admiral Andrew McIrvine).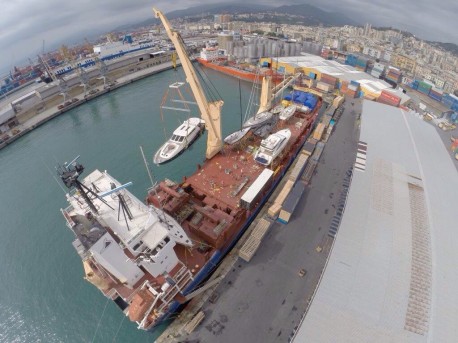 After Genoa SEVENSTAR'S BCC GREENLAND will proceed to Palma de Mallorca, thereafter heading for Malta. ETA 26 September.
We will keep you posted, not only prior to the start of this race but also during the race itself.
WINSOME is in front of all other boats -where else- on port side. On her starboard side is BELLADONNA, whilst VARUNA is more or less in the middle of the hatches, in the centre line of the vessel.