Our 4th entire day in Malta, spent at RMYC
October 12, 2014
Things getting shape and we feel in control oh what we are doing.
Yesterday we spent the entire day on WINSOME, well that is to say as from 11am since the heat is getting an influence over our speed. I guess one week more here and we would get up at 11am and arrive at the marina at 3pm only.
Now we have nearly done everything on WINSOME and we are ready to race as soon as the crew arrives and the race documents have been handed to us. A big hurdle we took yesterday was to change the network settings of my iPhone with help of Professor Köhne of course. Apple created a mess with their IOS versions 8.0.1 and 8.0.2 and am afraid we have not seen the end of it. After Prof Köhne instructed us how to change the settings we were able to get the Navimail weather forecast. Quite a relief.
Just for the connoisseurs listing some of the important and less important items of the last days: (just a copy of the notes made in my iPhone)
Done: Boat, Main Sail, beds, FW, clean, back stay, schroevendoos, B&G Front, reserve stuff Mifsud, check diver, clean waterline, 75 liter MDO, Fastnet washboard, Safety inspection, Claire paid, 8 Polo's RMYC, calibration compass, carter oil level check, tide tables promised by Söncke, attach LW antenna, check mast by Floris, Imray Italian Waters Pilot.
At the RMYC we had a lunch with Chris Bull (yes indeed once Vice Commodore of RORC, having done very well in JAZZ) who has shared with us his experiences on the Rolex Middle Sea Race which believe he did four times. Thank you Chris!
Later we met Söncke Stein, a friend of Jan van Balkom, sailing his boat OIL TANKING, who sailed this race already 14 times. Also he shared some of his knowledge on this race.
Since many of our competitors are reading these blogs, We will keep this information to ourselves (HA HA), but thank you Söncke!
At the end of the day I hoisted Floris into the mast, though I guess he will tell you he did it primarily himself. I recommend you not to believe him and feel my arm muscles.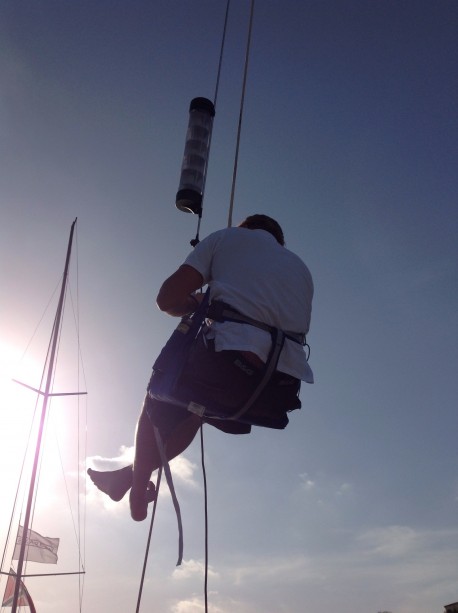 Last night Hubert and Mariana invited us to visit Birgu where the population did light a million candles or so. The photo's are only a poor resemblance oh what we did see really.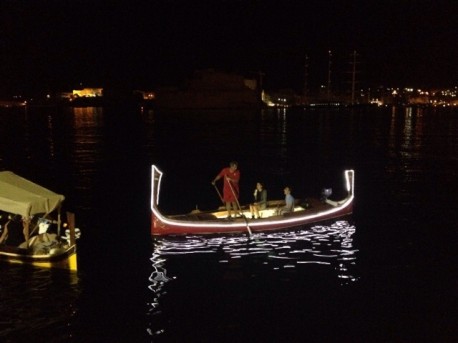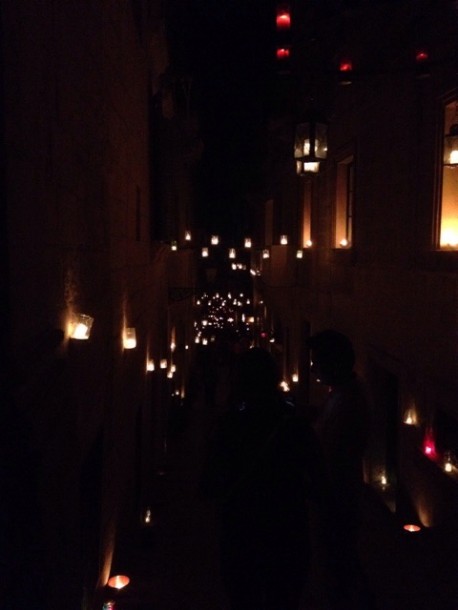 Today will be another day of hard work. We will board Hubert's Princess to do some swimming.
Will report again.